For as long as they've been playing the game, Free State High's baseball players have heard from coaches about the importance of running hard on contact with two outs — even on easy pop-ups.
When Firebirds junior Cameron Pope sent a two-out pitch high into the Wednesday evening air with the bases loaded in the third inning against Olathe South, FSHS base runners Joe Dineen and Cooper Karlin did what they have been instructed to do since childhood. They ran toward home plate, knowing the ball would be caught and the inning would end.
Photo Gallery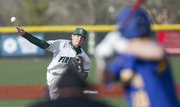 Free State baseball v. Olathe South
Images from Wednesday's game against Olathe South at Free State High School.
Except O-South second baseman Carson Garrett dropped the fly ball, just outside of the infield, and Free State turned the untimely error into a four-run rally and a 4-1 home win to stay unbeaten in the Sunflower League.
Sophomore FSHS center fielder Joel Spain said players never think the ball is actually going to end up on the ground.
"It's a good thing to practice for that reason right there," Spain said.
After the blunder afforded Free State (12-1) a 2-0 lead in the bottom of the third, senior Anthony Miele followed with an RBI infield single, lining it right back at O-South pitcher Isaiah Campbell as courtesy runner John Fellers scored.
Once Zach Bickling drew a walk to load the bases again, Spain chopped a grounder up the middle to second, plating Pope from third on another infield hit.
Though those four runs were all FSHS scored against O-South (9-4), Miele said small ball doesn't fit the team's offensive identity.
"We put the ball in play. We're a contact team," said Miele, 2-for-3. "That's what Coach (Mike) Hill wants us to do. (The four-run inning) shows what happens when you do that."
The cushion proved more than enough for Firebirds senior pitcher Dane McCullough, who kept the Falcons hitless up until a Campbell single in the fifth. McCullough (5-0) only allowed two hits and struck out five in a complete-game victory that improved Free State's Sunflower League record to 7-0 — every other team has at least two league losses.
Hill thought senior Jacob Caldwell (2-for-3, triple, double, sacrifice bunt) looked good at the plate, but the coach wanted more out of the Firebirds' offense, which stranded nine: "I think we left a lot of runs out there. That'll come back to bite us at some point in time."
Free State ended its first, third, fourth and sixth innings by striking out.
"We've got to be better in those situations. You've got to put the ball in play and make something happen. ... That wasn't necessarily there today, but we had Dane working for us."
Though their run production came unconventionally, Miele said the Firebirds needed a win to bounce back from their first loss of the season, Saturday against Blue Valley Northwest.
"Cam put it into play and we got a lucky break out of it to give us another chance," Miele said of the game-changing play, "so we took advantage of the opportunity and did what we had to do."
FSHS plays again today at Shawnee Mission Northwest.
Olathe South 000 000 1 — 1 2 1
Free State 004 000 X — 4 8 1
W — Dane McCullough (5-0). L — Isaiah Campbell.
2B — Chase Hanson, O-South; Lee McMahon, Jacob Caldwell, Free State. 3B — Caldwell, Free State.
Free State highlights — McCullough, 7 IP, 2 H, 5 K, BB, HBP, 1 ER; Caldwell, 2-for-3; Anthony Miele, 2-for-3, RBI; Joe Dineen, 1-for-3, R; Joel Spain, 1-for-3, RBI.
Copyright 2018 The Lawrence Journal-World. All rights reserved. This material may not be published, broadcast, rewritten or redistributed. We strive to uphold our values for every story published.