The "everyday heroes" who make Lawrence what it is today were honored at a ceremony at the Carnegie Building on Tuesday evening.
Susan Stuever, who has volunteered at thHealth Care Access Clinic for the past 19 years, and Taylor Moldenhauer, a high school student who has donated her time at Lawrence Memorial Hospital since 2009, were recognized as the Wallace Galluzzi 2012 Outstanding Adult and Youth Volunteers, respectively, at the Celebration of Volunteers! event presented by the United Way Roger Hill Volunteer Center.
"Everyone in this room deserves this award," said Stuever, 51, who also volunteers at the Lawrence Humane Society and does medical missions in developing countries.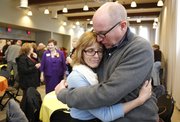 The event, held to coincide with National Volunteer Week, honored 60 local volunteers who have given their time and services to community organizations that aid the less fortunate, often without fanfare and, in many cases, with limited budgets. The volunteers were nominated by Lawrence's more than 100 nonprofit agencies.
Erika Dvorske, president and CEO of United Way of Douglas County, said the evening was a way to honor the "everyday heroes" who make this area a great place to live. She said Douglas County volunteers are among the most generous in the nation.
Stuever said it's important to give back to causes you feel passionate about, the reason she volunteers at the Health Care Access Clinic. "I just really believe in their mission, which is to provide health care to the poor and uninsured," she said, adding that she plans to keep donating her time there "until they make me quit."
Moldenhauer, an 18-year-old senior at Lawrence High School, began volunteering at Lawrence Memorial Hospital while she was still in middle school as a way to get a start in the health care industry. She plans to become a surgeon and has been accepted at Kansas University.
"It reinforced my love of the hospital field," she said of her volunteerism, adding that "the community aspect and teamwork are really great at LMH."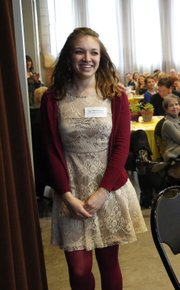 The Lifetime Service Award went to Joanne Hurst, who has referred to her volunteer work at Lawrence Memorial Hospital as "a love affair." She has served on various boards and committees at the facility, managing other volunteers and teaching leadership classes along the way. She has also headed fundraisers for the hospital, provided support for women who have undergone cancer treatment and acted as the LMH historian. A supervisor described her as "quiet and humble" but "unstoppable."
The other nominees for the Wallace Galluzzi 2012 Outstanding Volunteer Award were Bill Anderson of Van Go Inc., Ryan Banning of Lawrence Meals on Wheels, Leonora Barker of Trinity In-Home Care Inc., Kofi Boye-Doe of the Douglas County Correctional Facility, Jim Claussen of Kansas Audio-Reader Network, Katherine Dinsdale of Family Promise, Eyaul Getahun of Independence Inc., Nishon Hawkins of Headquarters Counseling Center Inc., Kacie Kneidel of Douglas County Court Appointed Special Advocates, Rob Land of Douglas County AIDS Project, Coyla Lockhart of Kansas Tick-Borne Disease Advocates Inc., Janice Lopez of Ballard Community Services, Victory Perry of Visiting Nurses Association, and Michelle Young of the Lawrence Public Library.
Copyright 2018 The Lawrence Journal-World. All rights reserved. This material may not be published, broadcast, rewritten or redistributed. We strive to uphold our values for every story published.