Lawrence High's batters more than doubled their hit total from the previous two games combined at the River City Baseball Festival Saturday night against Maize, but their 11 hits didn't knock them out of an offensive funk.
Maize's Blake Buzard broke a tie that had lasted eight innings in the top of the 11th with an RBI double down Hoglund Stadium's left-field line, and the Eagles survived a low-scoring battle, 2-1.
Photo Gallery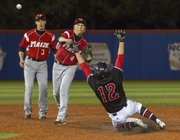 Lawrence High baseball vs. Maize
The loss was the Lions' third in as many nights, and after they left 14 runners on base, coach Brad Stoll lamented their inability to turn out more than one run.
"We didn't situationally hit very good and that's what it came down to," the coach said. "They (Maize) got a knock when they needed it."
LHS (8-5) took a momentary 1-0 lead in the bottom of the second. Jacob Seratte led off with a single to left. Two pop-up outs later, an Adam Rea base hit moved Seratte to second. Leadoff hitter CJ Stuever then rapped another single up the middle and Seratte slid in safely to home behind MHS catcher Brady Hoover's tag.
At that point, Lawrence already had come up with four hits, surpassing its three-hit Thursday and two-hit Friday endeavors at the festival. However, as Stoll said, the Lions never exploited Maize in run-scoring situations.
Shane Willoughby (reached on an error), Michael Sinks (hit by pitch) and Seratte (fielder's choice) loaded the bases with one out in the third and got stranded. In the fifth, Drew Green (single) and Sinks (fielder's choice) both moved into scoring position with no outs and Maize reliever Lucas Schauer retired the next three batters. Next, in the sixth, Stuever (4-for-6) singled and stole second with one out and never moved any closer to home. Even a leadoff single from Parker Kirkpatrick in the 10th and a one-out walk by Kieran Severa in the 11th failed to give Lawrence the run it so desperately needed.
Green (2-for-4) said LHS mental mistakes contributed to its insufficient offense.
"We didn't run the bases as well as we should've," he said. "We took some chances and they made good plays. There was a lot of defense. And we didn't execute when we needed to."
Maize right fielder Seth Troll fielded a Severa single and threw out Stuever at third to end the eighth, and MHS catcher Hoover picked off Kirkpatrick at first in the 10th.
As in a 4-0 loss to Lee's Summit West Friday, the Lions' pitchers kept them in the game. Stuever started and scattered nine hits in six and 1/3 innings while walking one. Willoughby threw two and 2/3 innings of relief and struck out five. Kirkpatrick, a freshman, gave up two hits in the final two innings.
"What a great game," Stoll said. "That was a tough one to lose."
LHS returns to Sunflower League play Tuesday at Olathe North.
Maize 001 000 000 01 — 2 11 2
Lawrence 010 000 000 00 — 1 11 1
W — Seth Troll. L — Parker Kirkpatrick (0-1).
2B — Troll, Blake Buzard, Maize.
Lawrence highlights — CJ Stuever, 4-for-6, RBI, SB, 6 1/3 IP, 9 H, BB; Shane Willoughby, 2 2/3 IP, 0 H, 5 Ks; Kieran Severa, 2-for-5, SB; Drew Green, 2-for-4; Jacob Seratte, 1-for-5, R.
Copyright 2018 The Lawrence Journal-World. All rights reserved. This material may not be published, broadcast, rewritten or redistributed. We strive to uphold our values for every story published.