Free State High's baseball team found some of the ingredients for a win Saturday at Hoglund Ballpark against Blue Valley Northwest.
Photo Gallery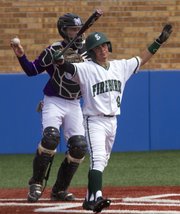 Free State baseball vs. Blue Valley Northwest
Junior FSHS starting pitcher Ryan Cantrell held BVNW to three runs in a complete game, senior catcher Lee McMahon caught four Huskies stealing and the Firebirds never allowed their opponent to put more than one run on the board in an inning.
It was Free State's lack of production at the plate in its River City Baseball Festival finale that led to a 3-0 setback, the Firebirds' first loss of the season.
The Huskies' pitchers — starter Sean Laughlin and relievers Jake Wimer and PJ Gustafson — kept the FSHS batters in check by never giving up more than one hit in any inning. Joe Dineen singled in the first, Anthony Miele had a base hit in the second, Cameron Pope doubled in the fourth, Sam Hearnen knocked another double in the sixth and Joel Spain raced to an infield single in the seventh. But that was about it for the Firebirds (11-1) offensively.
"Things just didn't fall today, and that happens in this game," Free State coach Mike Hill said. "I wasn't displeased with the way we played. I thought Ryan was fantastic on the mound and if you were to suggest we were only gonna give up three runs, I would have felt fairly comfortable about our chances."
Pope agreed, and said Laughlin (5 and 2/3 innings, four hits, four strikeouts, two walks) mixed up his pitches and kept FSHS off balance.
"Offensively, we just never got it going, really. We never had a runner on third base, which is pretty key," Pope added.
Still, Free State, which left eight on base, had a runner on second in every inning but the fifth. Each time the Huskies got out of any potential jam, including the bottom of the fourth, when Pope led off with a double and then got doubled up on a screaming line drive off Miele's bat, right back at Laughlin.
Said Miele of the Huskies' defense: "They made the plays that they had to."
At the very least, Miele said the Firebirds can learn something from the defeat.
"They're good competition," the senior shortstop said. "It's gonna show us what we need to work on to become a better team."
Hill doesn't expect the players to dwell on the loss long — not with a Tuesday home game against one of the Sunflower League's top teams, Olathe South, coming up.
"You don't win 'em all in baseball," Hill said. "That's very rare. How many games did the '27 Yankees lose? Fifty-some? It's part of it. You're not gonna win every time out. The key is: how do you handle it? Do you dwell on it, woe is me and that sort of attitude, or do you learn from it and get ready for the next one?"
Blue Valley Northwest 101 001 0 — 3 9 0
Free State 000 000 0 — 0 5 2
W — Sean Laughlin. L — Ryan Cantrell (1-1). Save — PJ Gustafson.
2B — Jackson Fuller (2), Blue Valley NW; Sam Hearnen, Cameron Pope, Free State.
Free State highlights — Cantrell, 7 IP, 9 H, 1 BB, 1 ER; Joe Dineen, 1-for-3, SB; Sam Hearnen, 1-for-3; Cameron Pope, 1-for-3; Anthony Miele, 1-for-3; Joel Spain, 1-for-3.
Copyright 2018 The Lawrence Journal-World. All rights reserved. This material may not be published, broadcast, rewritten or redistributed. We strive to uphold our values for every story published.