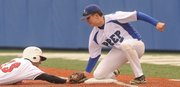 If Lawrence High's baseball players and coaches can find a way to forget that Thursday night's River City Baseball Festival game against Omaha Creighton Prep, Neb., ever happened, it might be for the best.
The Junior Jays smacked eight extra-base hits in a five-inning, 20-1 thumping of the Lions at Hoglund Ballpark.
LHS coach Brad Stoll said the Lions' pitchers left the ball up a little, and Creighton (9-6), Nebraska's defending Class A champion, gladly took advantage of the mistakes. Neither Stoll nor any of the LHS players wanted to give the drubbing much thought after the final out.
"I'm really glad they turned the scoreboard off as soon as the game ended," Stoll said. "That's just an old-fashioned butt-whupping. They outpitched us. They outhit us. That's as good a high school baseball team as I've seen in a long, long time."
Senior Alex Allbery (3-for-3, five runs, two walks) came up a double shy of the cycle against LHS (8-3) and provided a harbinger of things to come by leading off the game with a solo home run to left field. Actually, that was the only run scored in the first. Then the Jays poured on five in the second, seven in the third and six more for good measure in the fourth.
Creighton Prep had racked up all 18 of its hits before Lawrence avoided getting no-hit by Jays starter Jeff Albrecht with three singles in the bottom of the fifth. Jacob Seratte, Adam Rea and CJ Stuever (RBI single) were the only Lions hitters to produce versus Albrecht (seven strikeouts, six walks).
Stoll thought LHS might be able to get to the Creighton lefty early because Albrecht didn't start out throwing his breaking ball for strikes, but really nothing went the Lions' way Thursday.
"At least we didn't give up," Stoll said of avoiding the added insult of a no-hitter. "I thought that was a good thing, too."
Lawrence senior shortstop Shane Willoughby and his teammates are just glad they have a chance to erase the 19-run loss from their memories when they play host to Lee's Summit West, Mo., at 7 tonight.
"There's not really much to say," Willoughby offered. "We just got it handed to us."
Creighton Prep 157 61 — 20 18 1
Lawrence 000 01 — 1 3 4
W — Jeff Albrecht. L — Adam Rea (2-2).
2B — Zach Garrett (2), Alex Hechtner, Creighton. 3B — Alex Allbery, Adam Wilson, Dillon O'Doherty, Hechtner, Creighton. HR — Allbery.
Copyright 2018 The Lawrence Journal-World. All rights reserved. This material may not be published, broadcast, rewritten or redistributed. We strive to uphold our values for every story published.