One by one, the four-legged creatures walked their masters over to one booth in particular at last Saturday's Downtown Lawrence Farmers' Market. They were rewarded for their wise intuition — or strong sense of smell — with treats. Then their owners opened up their wallets.
The animals' sensitive snouts had brought them to Good Dog! Biscuits & Treats, a nonprofit run by homeless guests of the Lawrence Community Shelter. Dogs come to the stand, week after week, encouraging their human companions to replenish their supply of such favorites as Mutt Mix or Beef Liver Toastees. And the owners don't feel bad about forking over their money, because it's going to such a good cause.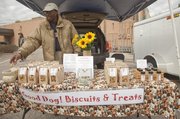 Good Dog! was founded seven years ago with the goal of putting Lawrence's homeless population to work. The program has done just that, employing eight or nine current or former residents at a time while graduating 16 people to other jobs. Some have even been promoted within the program and, with the money they made, moved into their own housing.
Sales have increased as well, from $54.55 at its first farmers market to several times that every week. That doesn't include the proceeds from Good Dog!'s 16 vendors, some of which have multiple stores, in such places as Lawrence, Topeka and the Kansas City metropolitan area. The program has seen its biggest growth in the past three years, after organizers say they perfected the chemistry of their recipe.
"We just wanted to give people a chance to make a living and get out of homelessness," said Dianne Huggins, the founder and general manager of Good Dog! "I feel like we've succeeded."
The program arms homeless residents with such resume-ready skills as product development, production, marketing and distribution.
"It's about giving people the confidence to go out in the job market and know they can do the work," said marketing manager Maureen Bernhagen.
Program began with human treats
The program had its origins selling cookies (of the human variety) at the farmers' market to raise money for the homeless shelter. "We made $11 that first day and said, 'Wow, this is great,'" Huggins recalled. "And then it was downhill from there."
So she set out to come up with a product that would stand out among the sea of baked goods at the farmers' market. Huggins then figured out a niche none of the other vendors were filling: dog treats.
Once the biscuits began to grow in popularity, local retailers offered to sell them; The Merc and Pawsh Wash were the first two. All these years later, The Merc remains its No. 1 customer.
In 2010, a volunteer with cooking experience came on board and transformed Good Dog!'s recipes, greatly improving the product's shelf life.
"It was an evolution, not a revolution," Bernhagen said of the product's growth.
And Good Dog! has done it, Huggins added, with an "itty, bitty operating budget."
For four hours every weekday morning in the shelter's kitchen, Good Dog! staffers mix the product's all-natural ingredients into a dough. They then use cookie cutters to shape the treats, which they place, side by side, onto a baking tray. After the cooking is done, employees store, package and label the biscuits, before delivering them to retailers.
"It's really a mini-professional business in here," Bernhagen said after giving a tour of Good Dog!'s operations one day last week.
The program is currently looking for volunteers, particularly to help build a new website, as well as its own vehicle in which to deliver the treats (it currently uses the shelter's van).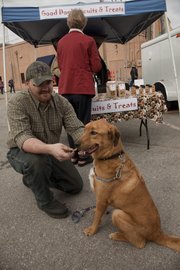 Man's best friend is the judge
In the end, even with the charity aspect of the the program, customers wouldn't keep coming back if their four-legged friends didn't enjoy the biscuits.
At the Downtown Lawrence Farmers' Market on a cool spring morning Saturday, several dogs, led by their snouts, proved that theory.
After her 10-week-old, usually picky Chihuahua, Sunny, ate a sample treat, Maria Felbush had to stock up on the goodies.
"I think It's important to support any activity that supports the community," the Lawrence resident added.
Warren and Pat Berry's Boston terriers are also finicky eaters who aren't fans of store-bought treats. So when, a few years back, the dogs tried — and loved — Good Dog! biscuits, the Lawrence couple became loyal customers. The bacon cheeseburger treats have become 2-year-old Louis' favorite food.
And "We're contributing to the community," Warren added, as Louis stood up on the table behind him, trying to snag some treats from the sample dish.
Copyright 2018 The Lawrence Journal-World. All rights reserved. This material may not be published, broadcast, rewritten or redistributed. We strive to uphold our values for every story published.