Playing in conditions more fit for ice hockey than high school tennis, the Free State High boys tennis team dropped a dual to Washburn Rural, 13-2, in sub-40-degree temperatures Thursday at FSHS.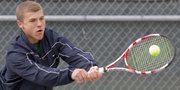 Despite the prevailing wind chill that dropped temperatures into the low 30s and made even the most routine shots and strategies tough to execute, FSHS coach Oather Strawderman did not make any excuses for his team's rough outing.
"This is a product of living in Kansas," he said. "We've practiced in weather like this before, and the conditions weren't any better for our opponent than they were for us."
Free State's most notable victory came in doubles, where Richard Lu and Josh Saathoff, the Firebirds' top two singles players, teamed to deliver their second doubles victory of the week, topping the Junior Blues, 8-4.
Lu and Saathoff both lost their singles matches, 8-4 and 8-3, respectively, but said this week's extra practice against Free State's top doubles team — Brandon Juracek and Miles Stevens, who lost 8-0 on Thursday — helped prepare them for the week.
"We put up a fight against them," Saathoff said. "And that's pretty good since they've been playing together for two years."
Lu, who was part of a doubles team that took 10th at state last season, said jumping back into doubles play was a challenge.
"It's kind of a different mind-set," he said. "In doubles, you don't have to hit the wild shots because you have someone else you can rely on."
Free State's No. 2 doubles squad of Braden Clements and Antonio Schoneich fell, 8-5, with both players losing their singles matches, as well.
Free State's lone singles victory came from Jackson Schneider, who topped Rural's Mike Einspuhn, 8-5.
Although the losses piled up throughout the bitterly cold afternoon, Strawderman was hardly discouraged given the talent on the other side of the net.
"I'd play these guys every day of the week," he said. "I don't care what the results are as long as we give good effort and get better. These are the kinds of players we're gonna see at state."
Washburn Rural 13, Free State 2
Doubles
Richard Lu/Josh Saathoff, FS, def. Tanner Driggers/Brandon Garland, 8-4
Griff Koupal/Matt Murray, WR, def. Brandon Juracek/Miles Stevens, 8-0
Reid Osborn/Nathtan Osborn, WR, def. Braden Clements/Antonio Schoneich, 8-5
Eric Seals/Mike Einspuhn, WR, def. Stephen Anderson/Aidan Dmitriev, 8-3
Mutschkelknaus/Bray, WR, def. Jackson Schneider/Sam Solis, 8-4
Singles
Koupal, WR, def. Lu, 8-4
Murray, WR, def. Juracek, 8-0
R. Osborn, WR, def. Stevens, 8-4
Seals, WR, def. Saathoff, 8-3
N. Osborn, WR, def. Clements, 8-3
Driggers, WR, def. Schoneich, 8-5
Ian Muts, WR, def. Anderson, 8-5
Garland, WR, def. Dmitriev, 8-5
Schneider, FS, def. Einspuhn, 8-5
Bray, WR, def. Solis, 8-5
Copyright 2018 The Lawrence Journal-World. All rights reserved. This material may not be published, broadcast, rewritten or redistributed. We strive to uphold our values for every story published.