Joe Dineen knew there was no turning back.
After reaching second base on a sacrifice bunt by teammate Jacob Caldwell, the Free State outfielder saw that no one was covering third in the Firebirds' 5-4 extra-inning victory over Shawnee Mission West.
Photo Gallery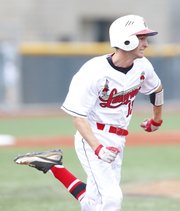 Prep Tuesday
Tuesday, April 9, 2013, was a busy day for city high school athletes. Here are images from Lawrence and Free State on the diamonds, on the pitch, on the court and in the pool.
"I just saw an opening and took it," Dineen said. "It was definitely a race."
The junior won — and just barely.
Dineen, who reached on an error to start the bottom of the ninth, was called safe following a headlong dive to avoid the tag. His alert baserunning put a runner at third with only one out in a 4-4 tie.
"It was a bang-bang play at third, but I like the fact he was willing to take a risk and played the game with a little bit of reckless abandon there," Free State coach Mike Hill said. "But it was smart — a smart thing to do. That's what great athletes do."
Following a pair of intentional walks to load the bases, Free State's Zach Bickling provided the game-winning RBI, laying off a 3-2 pitch out of the zone to give Free State a walkoff walk.
"Just good plate discipline," Dineen said. "He gets a full count, gets a ball low and doesn't chase it."
Free State (7-0) was able to extend the game because of a second straight impressive relief appearance from Sam Hearnen. The senior pitched the final four innings, allowing just two hits and no runs while striking out three.
The right-hander also danced out of a bases-loaded, one-out jam in the top of the seventh, picking up a strikeout before getting Kyle Stonestreet to fly out to right to end the threat.
"We just battled through to the end," Dineen said. "We've got to win games like that in order to be a good team. It was nice to get one that we had to really fight for."
Bickling finished 2-for-2 with a walk and RBI, while Joel Spain added two hits and a pair of RBIs.
Cooper Karlin also came through in the clutch, knocking an RBI single to left field in the bottom of the sixth to score Bickling and tie the game at 4.
Free State will play at Shawnee Mission North on Thursday.
FSHS 5, SMW 4 (9 innings)
SMW 210 010 000 — 4 9 1
FSHS 000 301 001 — 5 7 2
W — Sam Hearnen. L — Jarett Goodman.
3B — Nick Banman, SMW.
FSHS highlights — Zach Bickling 2-for-2, GW RBI, R, BB; Joel Spain 2-for-5, 2 RBIs; Cooper Karlin 1-for-3, BB, RBI; Sam Hearnen 4 IP, 2H, 0BB, 3K; 1-for-4 hitting, R, RBI.
Copyright 2018 The Lawrence Journal-World. All rights reserved. This material may not be published, broadcast, rewritten or redistributed. We strive to uphold our values for every story published.