Free State softball coach Lee Ice believes his team is ready for the toughest part of its schedule — a stretch that begins later this week.
Photo Gallery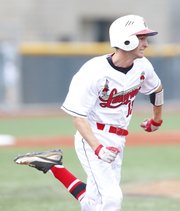 Prep Tuesday
Tuesday, April 9, 2013, was a busy day for city high school athletes. Here are images from Lawrence and Free State on the diamonds, on the pitch, on the court and in the pool.
The Firebirds breezed to 11-0 and 14-0 run-rule victories over Shawnee Mission North on Tuesday at Free State, improving to 7-1 to remain in a tie for first place in the Sunflower League standings.
"We swung the bat again extremely well, we pitched extremely well, and we made one error all day," FSHS coach Lee Ice said. "The pitching, the defense and the hitting was all there today."
The win sets up a first-place battle against Shawnee Mission Northwest on Thursday in Shawnee.
FSHS should go into the doubleheader with confidence after Tuesday's routs. The Firebirds had more hits (30) than outs (24) against North and also received two strong starts.
Meredith Morris allowed just one hit and walk while striking out eight in Game 1, while Kaley Delg surrendered two hits and struck out five in the nightcap.
Emily Bermel led Free State's offense in the first game, going 4-for-4 with a run scored and RBI. Whitney Rothwell also added a home run and two RBIs.
A'Liyah Rogers provided solid production from the leadoff spot in Game 2, going 2-for-3 with a triple, four runs scored and four stolen bases.
The Firebirds also welcomed back three-hole hitter Emily Byers, who sat out of the team's last doubleheader after suffering a concussion in pregame batting practice.
Byers, who passed her concussion test and was fully cleared Monday, went 3-for-3 in the second game with a double, two runs and three RBIs.
"It was good to have her back in there," Ice said, "because being a freshman, she needs the at-bats and she needs the experience going into these games that are coming up."
Morris and Remington Samuels added a pair of hits in Game 2 for Free State.
Game 1: FSHS 11, SMN 0 (5 innings)
SMN 000 00X X — 0 1 2
FSHS 128 0XX X — 11 15 1
W — Meredith Morris. L — Catherine Reed.
2B — A'Liyah Rogers, FSHS; Remington Samuels, FSHS. 3B — Lily Ross, FSHS. HR — Whitney Rothwell, FSHS.
Free State highlights — Emily Bermel 4-for-4, R, RBI, SB; Remington Samuels 2-for-3, 2B, 2R, RBI; A'Liyah Rogers 2-for-4, 3R, RBI, 2 SB; Lily Ross 2-for-3, 3B, R, RBI; Whitney Rothwell 1-for-4, HR, 2 RBIs; Meredith Morris 5 IP, H, BB, 8K.
Game 2: FSHS 14, SMN 0 (5 innings)
SMN 000 00X X — 0 2 5
FSHS 452 3XX X — 14 15 0
W — Kaley Delg. L — Chloe Green.
2B — Emily Byers, FSHS; Whitney Rothwell 2, FSHS. 3B — A'Liyah Rogers, FSHS.
Free State highlights — Emily Byers 3-for-3, 2B, 2 R, 3 RBIS; A'Liyah Rogers 2-for-3, 3B, 4R, RBI, 4 SB; Meredith Morris 2-for-2, 2B, 2R, 3 RBIs; Remington Samuels 2-for-3, 2 RBIs; Kaley Delg 5 IP, 2 H, 0 BB, 5K.
Copyright 2018 The Lawrence Journal-World. All rights reserved. This material may not be published, broadcast, rewritten or redistributed. We strive to uphold our values for every story published.