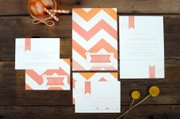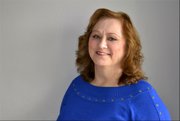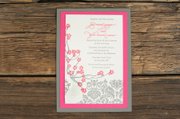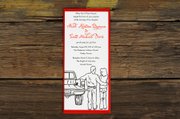 P.S. Gifts
There's one major question the invitation should never answer — where the bride and groom have registered for gifts.
"As the happy couple, just remember to always feel privileged, not entitled," Lawrence wedding planner Carmen Hocking says.
If you'd like to give the couple a gift (and if you're attending the wedding, you should) but don't know where they're registered, just ask, Hocking says. The maid of honor or other close friends and family members share it through word of mouth.
When possible, guests should purchase and send gifts to the couple's home before the wedding instead of taking them to the reception, where the bride and groom must deal with transporting them afterwards. Besides registry gifts, it's also appropriate to give money, a charitable donation in the couple's name or even a bottle of wine or spa certificates. A personal touch like including a special family recipe with a place setting of china, is always a nice addition, Hocking says.
"Let your imagination be your guide," she says.
The bride and groom should send thank you notes specifically mentioning the gift, amount of cash or time and talent shared no later than three months after the wedding, though a month after the honeymoon is best, Hocking says.
If you haven't received a note and worry your gift didn't arrive or the card was lost, don't confront the couple, Hocking says. Instead, casually asking whether they've had a chance to use the item should help you verify whether they received it.
Can I bring my kids? What do I wear? This venue's in the middle of nowhere — how do I get there?
All those envelopes, inserts and fancy-sounding phrases on the wedding invitation that just arrived in the mail? Take note. These aren't just stuffy old traditions that serve no purpose — they hold many of the clues you need to be a faux pas-free wedding guest.
The Golden Rule is a good guide for brides — or whoever's planning the event — and wedding guests alike, and creating and responding to invitations is no different, says longtime Lawrence wedding planner Carmen Hocking, owner of A Beautiful Wedding. A bride who follows etiquette on her invitations will be doing a big favor to guests — and herself.
"The easier you can make it for your guests, they're going to be very grateful," Hocking says. She adds that if guests follow suit, it will help ensure the whole wedding "goes with ease."
Four invitation components to keep in mind:
RSVPs
Brides: Mail invitations six to eight weeks before the big day, enabling guests to make travel and other plans. Hocking suggests enclosing a response card with a self-addressed stamped envelope and asking guests to RSVP three to four weeks before the ceremony. It's absolutely OK call nonresponders and ask whether they'll attend, Hocking says. "Headcount is extremely important."
Guests: Easy — yet surprisingly often ignored, Hocking says. Fill out the response card as soon as possible — don't forget to include your name(s) (yes, it happens!) — and drop it in the mail. (If there is no response card, RSVP in whatever manner the invitation indicates.) Brides need to know who's coming before they can make seating charts, and if they receive regrets early they may be able to invite another guest they wouldn't otherwise have space for.
On the big day, follow through. If you sent regrets but show up anyway, there may not be a seat for you. If you accepted but don't show up, the hosts undoubtedly paid for a full dinner they didn't need to.
"Never change your mind at the last minute," Hocking says (unless there's an emergency, in which case let the bride know as soon as possible). "This kind of inconsistency may seem harmless to you, but it wreaks havoc when you are planning a wedding. Make a decision, however difficult, and stick to it."
Invitees
Brides: You may be tempted to cut costs by omitting inner envelopes, or to cut time by leaving them blank. Don't, Hocking says. This part of the invitation lets guests know exactly who is invited to the wedding. Write mailing and return addresses on the outer envelope, of course, then list each invitee in the household by name on the inner envelope.
Guests: Take a look at that inner envelope, and don't bring or ask to bring children, significant others or guests if they're not invited.
"Many couples specifically do not want children at their wedding, or have not budgeted for the cost of having your entire family there," Hocking says. "Don't take situations such as this personally; instead find a sitter and enjoy yourselves. Perhaps other couples that you know attending the wedding are in the same predicament. Pooling resources together and hiring one sitter for all the children is an option."
Attire
Brides: If you'd like guests to arrive in specific attire, such as black tie, specify it on your invitation. If you don't specify, be sure the design and tone of your invites reflect the level of formality you're going for.
Guests: If the invitation specifies attire, follow it! If not, take a hint from the design, Hocking says. Also consider the time of day, setting and season of the event. For a Saturday afternoon wedding, a coat and tie is generally appropriate, while evening weddings call for a suit or coat and tie with dark slacks. Never wear jeans unless the invitation specifically calls for them — there's a difference between wedding casual and "weekend down-home casual," Hocking says.
"If you are unsure of the dress code, you're safer erring on the side of dressing up too much," Hocking says.
At the same time, she adds, never dress to upstage the couple — it's their day to be the center of attention, not yours. Save the micro-minis for a different kind of party.
Accommodations
Brides: Have you reserved rooms at a hotel with a special rate? If there's a long time between the ceremony and reception, can you suggest places for guests to relax or sites to visit? Would driving directions or a map help guests find the venue and get there on time? Have you arranged special transportation for guests? Do you have a wedding website with additional information? Details like these don't belong on the formal invitation, but including an accommodation card can be a huge help for guests, Hocking says.
Guests: Make your life easier and hang onto this card — especially the directions. Lost or not, being late to a wedding ceremony is a faux pas you'll really want to avoid.
— Features reporter Sara Shepherd can be reached at 832-7187. Follow her at Twitter.com/KCSSara.
Copyright 2018 The Lawrence Journal-World. All rights reserved. This material may not be published, broadcast, rewritten or redistributed. We strive to uphold our values for every story published.