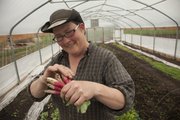 Winter stayed late this year — darn near up until the opening week of the Lawrence Farmers' Market.
But not to worry. Thanks to hoop houses and cold-weather crops, farmers say there will be plenty of fresh produce — plus breads, canned goods and crafts — when the downtown market opens for the season on Saturday.
"This year spring feels like it's running a little late," said Jen Humphrey of Lawrence's Red Tractor Farm. "It just means that, as with any farmers' market, you are eating in season."
As in years past, the Saturday market will be open, rain or shine, from 7 a.m. to 11 a.m. every Saturday through Sept. 28 at 800 New Hampshire St. Hours will be 8 a.m. to 11 a.m. Oct. 5 through Nov. 23.
Changes are in store for the weekday Lawrence Farmers' Markets, however. The Tuesday afternoon market, which opens May 7, is moving from Vermont Street to 800 New Hampshire St. — the same spot as the Saturday market. And the Lawrence Farmers' Market has discontinued its Thursday market, formerly in west Lawrence.
Avery Lominska, the Farmers' Market chairman of the board, said promoting multiple locations stretched the organization's resources, so leaders decided to simplify.
"We're kind of hoping for one bigger weekday market instead of two smaller ones," he said.
Two local businesses also plan to offer farmers' markets on weekdays.
As in years past, Cottin's Hardware and Rental, 1832 Massachusetts St., has a market from 4 p.m. to 6 p.m. Thursdays (indoors until May). And Clinton Parkway Nursery has filed plans with the city to offer a farmers' market from 5 p.m. to 7 p.m. Wednesdays from May through August at Clinton Parkway and Wakarusa Drive.
Humphrey said the scene at Red Tractor Farm is a little different from the last Saturday market opening.
"Last year at this time our pasture grass was about 7 to 8 inches high and lush and green," Humphrey said. "We had peas growing and fava beans."
This year, she said, most of the produce they'll have for sale Saturday has been growing in a hoop house, although Humphrey was scrambling last week — the first warm week since the late spring snowstorms — to get more veggies in the ground.
On Saturday Red Tractor will sell early-spring greens like lettuce, arugula and kale, and hopefully radishes and carrots, Humphrey said. They'll also have fresh eggs, pear butter and meat from goats raised on their farm.
Lominska, who owns Avery's Produce of Lawrence, said he, too, will have lots of spinach, kale, Swiss chard and lettuce, plus green onions, sweet potatoes, turnips and radishes.
While it may take a few extra weeks to get produce offerings at the market in full swing, the long-lasting winter may actually bode well for the rest of the season.
Last year saw worse-than-usual insect problems and drought, Lominska said, and some vendors actually dropped out of the market. He said a longer, colder winter should be a better start to the growing season.
"With the weather this year," he said, "I think we can be more optimistic."
Copyright 2018 The Lawrence Journal-World. All rights reserved. This material may not be published, broadcast, rewritten or redistributed. We strive to uphold our values for every story published.