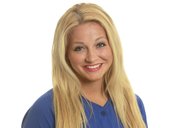 Lubbock, Texas — With a save and a complete-game, four-hit shutout in her first two appearances against Texas Tech, Kansas University softball pitcher Kelsey Kessler didn't leave herself much room for improvement in Game Three.
Somehow Sunday, she managed it.
Kessler, a freshman from Blue Springs, Mo., threw a complete-game no-hitter as the Jayhawks beat Tech, 4-0, to claim their first conference road sweep since they swept a two-game set at Tech in 2007.
It was Kessler's first no-no and first by a Kansas pitcher since Kassie Humphrey's gem against New Mexico on March 11, 2007.
"I don't know if I feel anything right now," Kessler said with a laugh. "I feel like I'm going to wake up in 30 minutes. But no, it was incredible. A no-hitter is as much as a team accomplishment as it was mine."
Kessler (7-3) struck out eight and walked just one. For the weekend, Kessler went 2-0 with a save and threw 15.2 shutout innings, with 13 strikeouts and just five hits allowed — a .096 opposing batting average.
The walk and a fielder's choice on consecutive at-bats in the fourth prevented a perfect game.
"A no-hitter is always special, but if you count all the things about this one, it's almost hard to believe," KU coach Megan Smith said. "Away at Texas Tech, against one of the best offenses in our conference and from a freshman. How impressive is that? We're really proud of Kelsey. She threw really well all weekend."
Chanin Naudin provided all the offense KU would need with a home run in the third, her third homer in three games at Tech.
And senior left fielder Maggie Hull extended her hitting streak to 20 games — best in the Big 12 this season and longest by a KU player in the Big 12 era.
Kansas (24-10, 3-3) will travel to Greensville, S.C., for a nonconference series at Furman University on Saturday and Sunday.
Tech fell to 27-17, 1-5.
Kansas 001 000 3 — 4 7 0
Texas Tech 000 000 0 — 0 0 3
W — Kelsey Kessler, 7-3. L — Cara Custer, 12-8.
HR — Chanin Naudin, KU.
Kansas highlights — Kessler CG no-hitter, 1 BB, 8 Ks; Alex Hugo 2-for-3; Maggie Hull 1-for-3, R, SB (20-game hitting streak); Naudin 1-for-2, 2 R, RBI.
Copyright 2018 The Lawrence Journal-World. All rights reserved. This material may not be published, broadcast, rewritten or redistributed. We strive to uphold our values for every story published.