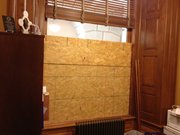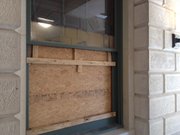 Topeka — A 30-year-old man was arrested Friday for allegedly breaking into the Statehouse office of state Rep. Tom Sloan, R-Lawrence.
Sloan joked before the full House Friday morning that "none of my state secrets were stolen." The suspect probably thought he was breaking into the office of a more influential legislator, Sloan quipped.
Giovanni Ronald Barcelona, of Topeka, was arrested without incident on suspicion of criminal damage to property and criminal trespassing, according to Patrick Saleh, a spokesman for the Capitol Police Department.
The incident occurred at 1:27 a.m. when Capitol Police responded to a glass-break alarm, Saleh said. At 1:29 a.m., they found a man on top of Sloan's desk talking and rambling nonsensically, he said.
Saleh said nothing was stolen from the first-floor office. The large window was broken with a rock. Saleh said police think the break-in was a random act and that there was no connection between the suspect and Sloan.
A large piece of plywood was in place where Sloan's window pane used to be.
Copyright 2018 The Lawrence Journal-World. All rights reserved. This material may not be published, broadcast, rewritten or redistributed. We strive to uphold our values for every story published.