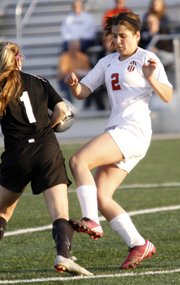 Lawrence High girls soccer lost, 8-1, to Shawnee Mission Northwest on Thursday at LHS.
Addison Campbell scored Lawrence's lone goal, assisted by Gretchen Hierl.
SM Northwest scored four goals each half.
"We came out and played much stronger in the second half than the first half," Lawrence High coach Justin Young said.
Lawrence (0-3) will host Blue Valley West on Saturday.
Copyright 2018 The Lawrence Journal-World. All rights reserved. This material may not be published, broadcast, rewritten or redistributed. We strive to uphold our values for every story published.