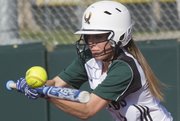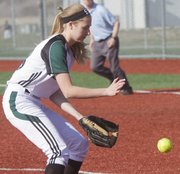 In a doubleheader in which his team racked up 24 runs and 27 hits, Free State softball coach Lee Ice left most happy with his pitching.
Two FSHS hurlers combined for just one walk over 10 innings, and the Firebirds rolled to 15-0 and 9-0 victories over Leavenworth on Thursday at Free State.
"We threw to contact, and we didn't make many mistakes defensively," Ice said. "So we executed pretty well."
Junior Meredith Morris was almost flawless in the first game, pitching a three-inning no-hitter while striking out four and walking none. The only runner she allowed made it to first via an error.
"All her pitches were working, too," Ice said. "She competes real well. She throws strikes. That's what you're going to get from her."
Morris didn't have to worry about run support.
Free State scored its 15 runs on 18 hits in just three innings. That included 16 hits in the first two frames.
"You go in with an easier mind-set," Morris said. "You know you have your defense behind you to back you up, but you know you have your offense that will still get the job done no matter what can happen out there on the field."
Junior Kaley Delg followed with her own shutout in the nightcap, when she allowed five hits and struck out four while walking one.
"I felt like I had my arm going, and I knew I had my defense behind me," Delg said. "... I know I can pitch to contact, and they'll be there for me."
Ice even took partial responsibility for Delg's only free pass, since he called for a pitch out of the strike zone when he thought the count was 1-2 to Leavenworth's Layne Broeker. Instead, it was 2-1, and Broeker later drew the Pioneers' only walk.
Free State produced offensively despite losing one of its best hitters just minutes before the game.
Three-hole hitter Emily Byers was held out after suffering a concussion in batting practice — an injury that likely will keep her off the field for about a week.
Summer Frantz stepped in at third base and provided immediate offense, going 3-for-3 in the opener with a double, two RBIs and two runs scored. Sophomore Emily Bermel also went 3-for-3 and scored a pair of runs.
Morris led Free State's offense in Game Two, going 2-for-4 with a double and two RBIs.
The Firebirds (5-1) will play host to Shawnee Mission North at 4:15 p.m. Tuesday.
Free State 15, Leavenworth 0 (3 innings)
Leavenworth 000 — 0 0 5
Free State 483 — 15 18 1
W — Meredith Morris. L — Layne Broeker.
2B — Paige Corcoran, FSHS; Summer Frantz, FSHS.
FSHS highlights — Meredith Morris no-hitter, 4K, 0 BBs; Emily Bermel 3-for-3, 2 R; Paige Corcoran 2-for-2, 2B, 2 RBIs, 3 R; Summer Frantz 3-for-3, 2B, 2 RBIs, 2 R; Whitney Rothwell 2-for-2, 2 RBIs, 2 R, SB.
Free State 9, Leavenworth 0
Leavenworth 000 000 0 — 0 5 3
Free State 105 021 x — 9 9 0
W — Kaley Delg. L — Darienne Watkins.
2B — Emily Bermel, FSHS; Meredith Morris, FSHS.
FSHS highlights — Kaley Delg CG, 0 R, 5 H, 4 K, BB; Emily Bermel 1-for-2, 2B, RBI, 3 R; Meredith Morris 2-for-4, 2B, 2 RBIs; Summer Frantz 1-for-3, BB, 2 RBIs, R.
Copyright 2018 The Lawrence Journal-World. All rights reserved. This material may not be published, broadcast, rewritten or redistributed. We strive to uphold our values for every story published.