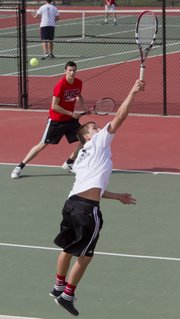 At the beginning of his No. 1 singles tennis match, Lawrence High senior Austin Abbott was trying to kill every shot.
It put him in a 5-2 hole against Bonner Springs' Quinton Schneck.
"It wasn't working," Abbott said of his approach, "so I just switched it up."
Thanks to a strategy change — and some helpful advice from LHS coach Chris Marshall — Abbott rallied, taking a 7-6 (7-2) victory as part of a 7-2 team victory for the Lions over Bonner Springs on Tuesday at LHS.
After watching Abbott fall behind 5-2, Marshall asked him: "Do you get bonus points for hitting the ball hard?"
When Abbott said no, Marshall continued with his point: It's not how hard you hit it, but where you hit it that matters.
"Sometimes sarcasm is taken well," Marshall said with a smile. "I hope it helped him out."
Abbott admits it did. He played with more confidence while following the safer game plan.
"It got me focused again," Abbott said. "I was just like, 'Don't make stupid unforced errors.' Just keep on playing."
Marshall said Abbott, who is playing his first year of varsity tennis after previously focusing on basketball, already had been a solid addition for LHS.
The senior could sense a momentum shift late in his singles match when he started simply "poking" the ball back toward Schneck.
"I realized he was getting nervous, because he lost his lead," Abbott said. "I was just trying to make him make the mistake."
Abbott's victory was part of a singles sweep for LHS, which continued to show progress in its third meet.
Because of the weather, the Lions have only had three outside practices on the courts this year.
"I was pleased. I saw more consistency," Marshall said. "We had a lot more balls back in play, which is an improvement from last week."
Marshall was especially happy with No. 2 singles player Christoph Brandt, who bounced back from a disappointing meet Monday in Emporia to take two victories. He defeated Bonner Springs' Aaron Lewis, 6-0, at No. 2 singles and also teamed with Abbott for an 8-6 victory in doubles.
"That's the first time we've played together, and we did pretty good," Abbott said. "We had good strokes then, and our serves were working. I felt confident about us."
Kley Bolivar (6-2), Elliott Abromeit (6-2), Adam Eudaly (6-4) and Tim Thongone (6-4) were the other singles winners for LHS.
The Lions will play their third meet in three days today, traveling to Topeka for a quad at Washburn Rural.
Copyright 2018 The Lawrence Journal-World. All rights reserved. This material may not be published, broadcast, rewritten or redistributed. We strive to uphold our values for every story published.