Game after game, Josh Saathoff battled back and forth, in search of an edge against his first No. 2 singles opponent, Tuesday afternoon at Free State High's home tennis quad.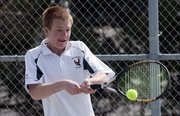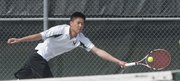 Though Saathoff, an FSHS senior, had taken an early lead against Lee Fitchett of Olathe Northwest, his foe caught up with him, and they began alternating wins in their race to reach eight. Finally, Saathoff broke serve and went on to take the match, 8-6 — his first of three victories on the afternoon.
"The close matches he had at the beginning," Firebirds coach Oather Strawderman said, "really gave him that focus and drive to keep fighting. And the fight that he had that first match, that carried over."
Saathoff's wins against ONW and Shawnee Mission Northwest were Free State's only victories before the Firebirds finished 1-2 at the quad by sweeping Shawnee Mission North, 4-0, to close it out.
Down, 3-1, early in his second match, against Shawnee Mission Northwest's Nate Stevens, Saathoff fought back with a simple strategy.
"Just hitting it to the corners, making him move," the senior said. "It worked out pretty well."
After winning, 8-6, Saathoff declined a resting period before his third and final victory, 8-0, against Shawnee Mission North's Michael Armstrong.
"The adrenaline's still rolling, warmed up, might as well keep going and finish the match," he said.
His opponents found out what Strawderman already knew: Saathoff delivers the ball with more power this season.
"Josh's consistency has always been there," the coach said, "but this year especially, his first serve is much stronger and just the pace he is putting on the ball for groundstrokes has also improved a lot."
Not everyone from Free State, however, was clicking on that level, and the Firebirds finished third at their home quad, which SMNW won with a 3-0 record. ONW went 2-1, and SMN was 0-3.
Said FSHS No. 1 singles player Richard Lu after winning one of his three matches: "Everyone's not at their max right now. We're still a little rusty from the offseason."
One of six seniors for FSHS, Lu felt a little perturbed after an 0-2 start but entered his final match focused and won easily, 8-1, against North's Vittoria Masina.
"Things had not been going my way, just not playing well," Lu said. "I'm kind of in a rut right now."
Free State's No. 1 doubles team of Brandon Juracek and Miles Stevens and No. 2 doubles team of Brady Clements and Antonio Schoneich won their final matches of the quad, too.
Lu said the team needed to improve after its rough afternoon.
"You're gonna have bad days," he said.
The Firebirds play Saturday at the Goddard Invitational.
Copyright 2018 The Lawrence Journal-World. All rights reserved. This material may not be published, broadcast, rewritten or redistributed. We strive to uphold our values for every story published.