In the race for three seats on the Lawrence City Commission, it was a night of comebacks and questions, especially about the lingering issue of a proposed $25 million recreation center.
Incumbent Commissioner Mike Amyx and political newcomer Jeremy Farmer both won relatively easy victories on Tuesday, but Lawrence physician Terry Riordan had to wait until the final ballots were counted to win a seat on the commission, thwarting what would have been a historic victory by sixth-place primary finisher Leslie Soden — a staunch critic of the current recreation center proposal.

"We had a tremendous kick tonight and we needed it," said Riordan, who finished in the third spot by just 97 votes over Soden. "I have never worked so hard and been so happy to be in third place."

Riordan, a partner in a Lawrence pediatrics practice, ran in fourth place for much of the evening, while Soden lingered in second or third place.
Election results
Unofficial results from Tuesday's Lawrence City Commission election:
• Mike Amyx: 6,999
• Jeremy Farmer: 5,256
• Terry Riordan: 4,816
• Leslie Soden: 4,719
• Scott Criqui: 3,558
• Rob Chestnut: 3,412
On the street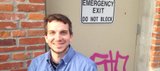 I'm interested. I didn't realize the election was today, but I'll definitely read about it tomorrow.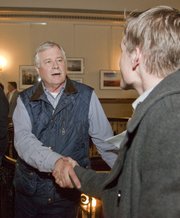 But as the last wave of West Lawrence votes were counted at the courthouse, Riordan surged ahead to grab the third and final spot on the commission. In fact, Riordan said he came to the courthouse a little after 9 p.m. to congratulate Soden on her victory, only to learn that he had won.
"I spent a lot of time on the westside, and that paid off," Riordan said. "Even though I didn't do as well on the eastside, I really do believe in one Lawrence. I want the eastside to do as well as the westside, and that is how I'll always approach it."
Both Amyx and Farmer will receive four-year terms on the commission. Riordan will receive a two-year term. The trio will begin their terms at next week's commission meeting.
Soden, a former East Lawrence Neighborhood Association president, would have been the first sixth-place primary finisher in recent memory to come back to win a seat on the commission. She also was the candidate who spent the least on the campaign, yet she came within a whisker of victory.
Soden said she's convinced her strong opposition to the proposed $25 million recreation center played a large role.
"That was the biggest issue voters wanted to talk to me about by far," Soden said. "I hope the new city commissioners pay attention to that."
Riordan said he agreed the recreation center issue was important to voters. "I believe it is an indication that the citizens are not happy about some aspects of the center," he said. "I would like it to not be so expensive."
But Riordan said he doesn't plan to lobby the commission to make any changes to plans for the 181,000-square-foot center slated for northwest Lawrence. The City Commission already has agreed to open bids on the project in mid-May.
"It wouldn't be good for Lawrence to try to change horses in midstream on this," Riordan said.
The top vote winner, Amyx, a downtown barber shop owner, also spoke out against the recreation center during the campaign and had been the lone commissioner to vote against the project. Amyx was in first place the entire evening Tuesday, and beat second-place finisher Farmer by more than 1,700 votes.
Amyx, who won his fifth term on the commission, said he believed his experience played a key role in the results, but added that voters also appreciated his stand on the issues.
"Let's face it, the question of the recreation center was important in this campaign," Amyx said.
Bringing the community together on controversial issues is what Farmer, the executive director of local food bank Just Food, said he'll spend a lot of time on as a commissioner.
"I am convinced that deep down this community wants something more than division," Farmer said.
Farmer said he ran a campaign that tried to highlight that the community needs to get past traditional divisions such as "builders versus non-builders, neighborhood people versus non-neighborhood people."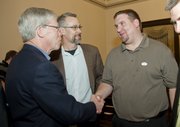 Despite the last-minute twist, the top three finishers were unchanged from February's lightly attended primary election. Tuesday's election had a turnout of 16.3 percent. The City Commission field also included Scott Criqui, a local human resources executive, who finished fifth; and former City Commissioner Rob Chestnut, who fell to sixth place after finishing fourth in the primary.
Copyright 2018 The Lawrence Journal-World. All rights reserved. This material may not be published, broadcast, rewritten or redistributed. We strive to uphold our values for every story published.