Photo Gallery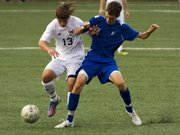 Free State soccer vs. Leavenworth
The Firebirds defeated Leavenworth, 4-2, Thursday night at Free State High.
Free State High's boys soccer team picked up a 4-2 home win over Leavenworth on Thursday.
Anthony Richardson, Evan Smith, Chris Allen and Will Laufer scored for the Firebirds.
On Monday, FSHS plays at Shawnee Heights.
Copyright 2018 The Lawrence Journal-World. All rights reserved. This material may not be published, broadcast, rewritten or redistributed. We strive to uphold our values for every story published.