Eudora — The Veritas Christian volleyball team only lost one set to Topeka Cair Paravel Thursday night at the Eudora Community Building, winning 25-18, 21-25, 25-14, 26-24.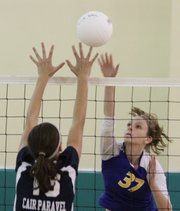 Coach Mike Bartlow said the Eagles played well at times, but struggled to put their opponents away.
Veritas (10-3) doesn't play again until it travels to the Manhattan CHIEF Invitational, on Sept. 29.
Copyright 2018 The Lawrence Journal-World. All rights reserved. This material may not be published, broadcast, rewritten or redistributed. We strive to uphold our values for every story published.