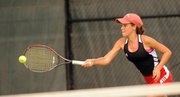 When her doubles partner had to miss Lawrence High's tennis quadrangular Monday due to illness, junior Zoe Schneider and the rest of the Lions found themselves with a schedule that looked a little out of whack.
Lions coach Chris Marshall mixed and matched the lineups against Shawnee Mission West, Shawnee Mission Northwest and Blue Valley West — LHS lost 3-1 to each opponent — with senior captain Abby Gillam unavailable.
Schneider had the largest adjustment to make because she usually teams with Gillam. The junior instead paired with Whitney Simons in one doubles match and Brooke Braman in another. She also played singles for the first time this season, winning 6-4 (all matches that began following a 45-minute weather delay ended once the score reached six) in the No. 2 slot against Carly Olsen, of SMNW.
"I was definitely hitting it harder than I usually do," Schneider said, "and I was hitting it where she wasn't, which was helping me out a lot."
Simons, Lawrence's top singles player, hadn't played a doubles match in two years. She and Schneider agreed their 8-0 No. 1 doubles loss to SMW had a lot to do with their lack of practice time together.
Schneider and Braman fared better against BVW, losing 6-4. Still, Schneider missed Gillam.
"I like Brooke," she said with a laugh, "but I don't have that close connection with her."
Braman almost always plays doubles with Lily Abromeit (the two beat SMW, 8-1, and lost, 8-4, to SMNW), so she could appreciate that statement.
"Lily and I have a series of codes we can use that we shout to each other during the matches. It was hard, because I found myself wanting to use those, but Zoe doesn't know what they mean," Braman said.
Lawrence won two of its six doubles matches at the quad — Abromeit and Haley Ryan, another new combination, won 6-0 over BVW — so Marshall didn't mind the results. He hoped it would boost Schneider's confidence, too.
"I just wanted her to go back and have fun with some different players at home and do some things that way," Marshall said.
Braman found the afternoon of change helpful.
"I think it's also beneficial to play with different partners, because you can see what strategies other teams use, and it's good to just clear your head and take a break for a little bit," she said.
In particular, Braman picked up on Schneider's aggressive style, something that set her apart from Braman and Abromeit.
"Seeing how effective her net play is," Braman said of Schneider, "it's encouraged me to be just as effective at the net."
The most competitive match came in Simons' showdown with Lexy Drummond, of SMNW, at No. 1 singles. Neither could put the other away before Drummond won in a prolonged tiebreak, 8-7 (14-12).
"I really like to play under pressure," Simons said. "It makes me do better, I think."
Copyright 2018 The Lawrence Journal-World. All rights reserved. This material may not be published, broadcast, rewritten or redistributed. We strive to uphold our values for every story published.