Free State quarterback Kyle McFarland walked off the field with his black chin strap over his mouth and tears in his eyes.
Photo Gallery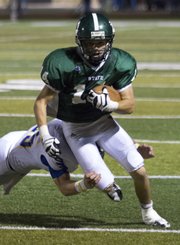 Olathe South football at Free State
"We had plenty of chances," McFarland said following the No. 4 Firebirds' 38-35 loss to No. 2 Olathe South on Friday night at Firebird Stadium. "I just didn't execute at the end like we were supposed to."
On his way to the locker room, McFarland was stopped by Free State quarterback coach Adam Barmann, who told the senior how proud he was of his effort.
McFarland nodded, but one could see his mind wandering back to his final pass of the game.
With the Firebirds trailing 38-35 and less than three minutes remaining, McFarland had set his team up with a second-and-10 on the South 20.
After rolling to the left, McFarland fired for junior receiver Chris Heller, though there appeared to be some miscommunication.
The pass ended up sailing to South's Chase Hanson, who intercepted it in the back of the end zone.
"We had open receivers, and Kyle went for it," Free State coach Bob Lisher said. "We just didn't make a play. Can't fault that. That was just the kids trying to make a play."
McFarland, for his part, took responsibility afterward.
"I just rushed it too fast," McFarland said. "I could have let it open up or run it, and that would have been better. I just made a bad mistake, and it cost us."
South picked up three first downs on rushes on the ensuing drive to run out the clock.
Free State battled back from deficits most of the night.
One of the biggest plays came with the Firebirds trailing 21-7 midway through the second quarter, as McFarland threw a jump-ball deep to receiver Tye Hughes with South's Frankie Seurer tipping it away.
Replays showed that the ball deflected near Hughes' stomach, but as he was juggling it, Hanson ripped it away for what appeared to be an interception.
Officials ruled it as a 35-yard catch for Hughes and kept the call even after a conference on the field.
That ended up being significant, as three plays later, McFarland found Blake Winslow in the right corner of the end zone to cut the South lead to 21-14.
Exactly one minute later, Free State senior cornerback Demarko Bobo jumped a South route, picking off a Seurer pass before returning it 28 yards for a touchdown.
"I saw the field wide-open, and I knew my guys were going to lead me to the end zone," Bobo said. "I just gave it all and kept running."
Following a South field goal, FSHS took its only lead with 7:42 left in the third quarter, as TJ Cobbs contributed an eight-yard TD run to make it 28-24 after the PAT.
The advantage would be short-lived. South, which didn't pass the ball in the second half, followed with 70- and 73-yard touchdown drives to go up 38-28 with 11:49 left.
McFarland, though, brought Free State back immediately. He completed a 32-yard pass to Winslow and a 15-yarder to Hughes to move FSHS inside the 20 before Cobbs' second TD run pulled the Firebirds to within three at 38-35 with 9:25 left.
Free State's defense picked up the stop it needed on the next possession. With South facing a fourth-and-one with 3:34 remaining, senior defensive lineman Cody Stanclift collapsed the hole on South's Thomas McCue, tackling him for a one-yard loss.
"That was just pure adrenaline," Free State linebacker Stan Skwarlo said. "Our defense really did well, really stood up. It was awesome."
Following an 18-yard Bobo run, McFarland completed a 28-yard pass down the sideline to Winslow to set up Free State with a first down at the South 20 before the final interception.
McFarland, who also had an interception on defense, finished 12-for-21 passing for 235 yards with two touchdowns and three picks.
"He played an awesome game," Skwarlo said. "I told him, too. I told him he was the one that really got us here."
Behind 6-foot-6 left guard — and Div. I prospect — Braden Smith, the reigning state champion Falcons (3-0) finished with 60 carries for 378 yards using a flurry of misdirection plays.
"It was a heavyweight battle," Lisher said. "Both teams went right after each other and didn't back down. It's just a matter of them making a few more plays that we did."
Hughes added four catches for 99 yards and a score for the Firebirds (2-1), while Winslow contributed five receptions for 89 yards and a TD.
"I think we held our own pretty good," Skwarlo said. "Coming into this game, a lot of people didn't think we had a shot at all. I think we kind of made a statement to the Sunflower League that says, 'Hey, we can hang with any team.'"
Box score
OS FS
Rushes-yards 60-378 23-102
Passing yards 38 235
Total offense 416 337
Return yards 150 176
Fumbles-lost 1-1 5-1
Penalties-yards 2-10 2-20
Score by quarters
OS 14 10 6 8— 38
FS 0 21 7 7— 35
Individual statistics
Rushing
Olathe South: Russell White 26-165 2 TD, Matt Elliott 7-63 TD, Chase Hanson 9-60, Thomas McCue 9-49, Frankie Seurer 8-43, Team 1-minus-2.
Free State: TJ Cobbs 12-61 2 TD, Kyle McFarland 9-35, Joe Dineen 2-6.
Passing
Olathe South: Frankie Seurer 1-4-38, TD, INT.
Free State: Kyle McFarland 12-21-235 2TD, 3INT.
Receiving
Olathe South: Matt Elliott 1-38 TD.
Free State: Tye Hughes 4-99 TD, Blake Winslow 5-89 TD, Sam Hearnen 2-40, Chris Heller 1-7.
HOW THEY SCORED
First quarter
5:24 — Frankie Seurer 60 interception return. Logan Swartz kick. (OS 7, FSHS 0.)
1:15 — Matt Elliott 38 pass from Frankie Seurer. Logan Swartz kick. (OS 14, FSHS 0.)
Second quarter
9:54 — Tye Hughes 40 pass from Kyle McFarland. Antonio Schnoneich kick. (OS 14, FSHS 7.)
5:34 — Russell White 5 run. Logan Swartz kick. (OS 21, FSHS 7.)
2:58 — Blake Winslow 10 pass from Kyle McFarland. Antonio Schnoneich kick. (OS 21, FSHS 14.)
1:58 — Demarko Bobo 28 interception return. Antonio Schnoneich kick. (FSHS 21, OS 21.)
00:00 — Logan Swartz 32 field goal. (OS 24, FSHS 21.)
Third quarter
7:42 — TJ Cobbs 8 run. Antonio Schnoneich kick. (FSHS 28, OS 24.)
2:38 — Russell White 18 run. Logan Swartz kick blocked. (OS 30, FSHS 28.)
Fourth quarter
11:49 — Russell White 50 run. Jackson Schneider pass from Frankie Seurer. (OS 38, FSHS 28.)
9:25 — TJ Cobbs 3 run. Antonio Schnoneich kick. (OS 38, FSHS 35.)
Copyright 2018 The Lawrence Journal-World. All rights reserved. This material may not be published, broadcast, rewritten or redistributed. We strive to uphold our values for every story published.