Golfers from Free State and Lawrence high schools had more than the region's top programs to contend with Thursday at Alvamar. Morning wind and afternoon rain impacted a lot of scores at the Lawrence Invitational.
Photo Gallery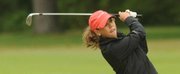 2012 Lawrence Invitational golf tournament at Alvamar
Fortunately for Firebirds sophomore Emily Bermel, her round didn't go from bad to worse when the downpour began.
"Surprisingly, on the last four holes I did better than I did earlier," Bermel said after shooting an 87, the lowest total among the city's golfers.
Bermel actually preferred the precipitation to the gusty, cool morning conditions. She embraced the wet afternoon, stopped worrying about her score and found her driver and putter more trustworthy.
"At that point, if you fall apart there's nothing you can do about it because the weather's that bad," she said after finishing tied for 21st.
While Bermel and the Firebirds finished with a team score of 414, 17th among 23 teams competing at the invitational, their rivals from LHS fared better.
Senior Quillen Eichhorn led the Lions with a 91 (tied for 30th), and three of her teammates finished right behind her. Junior Abigail Schmidtberger's 94, senior Attie Pennybaker's 96 and senior Anna Wright's 99 allowed LHS to take 11th place with a 380.
First-year Lawrence coach Kristen Samp liked seeing those scores bunched together at the tournament, which Blue Valley North (331) won.
"It's a strong field and (the Lions) shot as a team 20 strokes better than their last tournament," Samp said. "And I thought they did great once it started raining. I was proud of them, because it was kind of tough out there."
The wind provided the worst conditions for Eichhorn.
"The front nine was really bad for me," she said. "It got in my head."
After posting a 50 on the front nine, Eichhorn got out of her rut with a run of pars on the back. Samp said the Lions spent a whole practice on the back nine of Alvamar's public course, learning how to best place their shots.
"I thought they played the funky holes on the back nine really smart," Samp said.
FSHS coach Craig Hershiser had to praise his golfers, too. Sophomore Karen Campbell took a "very significant step forward" at the invitational, her coach said, with a new career low of 93, which tied her for 38th. Hershiser said Campbell has been making better decisions of late by properly measuring risk and reward.
After a tie-breaker, the invitational's individual championship went to Audrey Judd of Olathe Northwest. She shot a 74, as did Blue Valley North teammates Natalie Curran (second) and Jean Tyrell (third).
Copyright 2018 The Lawrence Journal-World. All rights reserved. This material may not be published, broadcast, rewritten or redistributed. We strive to uphold our values for every story published.