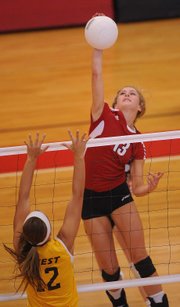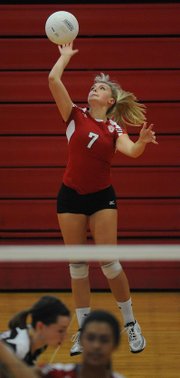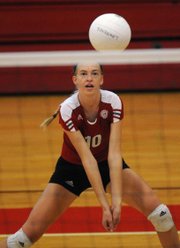 For a while, not much could curtail Lawrence High's volleyball attack Thursday night at its home quadrangular.
The Lions had swept Shawnee Mission West and Shawnee Mission South to set up a showdown with Olathe Northwest, one of the top teams in Class 6A.
Even the Ravens fell victim to Lawrence's stellar defense, passing and overall athleticism in the first game of their match at LHS.
But somewhere in the midst of the excitement surrounding the skillful show the Lions were determined to put on, they hit a wall, and ONW disposed of the Lions, 19-25, 25-19, 25-13.
From the bench, LHS coach Stephanie Magnuson could plainly see a difference in her players.
"We lost our physical energy," she said.
Magnuson detected a little less bounce in her Lions (2-2), a little less oomph in their swings, feet not as quick to shuffle or slide. And on the other side of the net stood the Ravens (6-1, receiving votes in the latest Kansas Volleyball Association's top-five rankings), conditioned and ready to take advantage.
Admitted LHS senior setter Brealynn May: "I think we got a little tired from being out of shape a little bit."
While Lawrence had played just one match (an Aug. 28 dual loss at Blue Valley Northwest) prior to the quad, ONW came in with a 3-1 mark (its only loss coming to 5A's top team, Bishop Miege).
As good as Lawrence looked in its 25-15, 25-9 victory over Shawnee Mission West and a 25-19, 25-19 sweep of Shawnee Mission South, the Lions weren't exactly in midseason form as far as fitness goes.
"It takes a lot of energy to play three matches in a row, and we're not used to that very much yet," May said after distributing 34 assists in three matches.
Still, the Lions nearly stormed back to take Game 2 against ONW after seven Caitlin Broadwell kills, aces from May, Monica Howard and Caroline Dykes and blocks from Brianna Anderson, Howard and Dykes helped them take the first game. They cut a six-point deficit to 21-19, thanks in large part to relentless digging from libero Zoe Reed, Broadwell, May and Howard. But ONW scored four quick points to finish the second game and put LHS away in the third.
Broadwell, a junior outside hitter who had 27 kills on the evening, said Northwest was strong enough to counter Lawrence's fight.
"They're huge. They put up a great block," she said. "There were times that we couldn't get around them, and I think that's what hurt us the most."
Still, Lawrence's effort pleased Magnuson, who said every player helped out on the 2-1 night.
"I just think it was good competition," the coach said. "It was a great game, an intense game, and the girls played extremely hard. We didn't come out on top, but that's OK. They played well."
After the Lions' first Sunflower League matches of the season, Broadwell expected she and her teammates won't slow down as easily as the season goes on.
"I'm really excited because we have so much potential and so much to work on that we're gonna be getting better," the junior said.
Magnuson said the LHS players are smart and determined, and if they get another chance to play top teams at the end of the season, their early-season issues will be long gone.
"When we get down to that third game," she said, "we're gonna have a lot more gas in the tank."
LHS will play Saturday at the Shawnee Mission South tournament.
Copyright 2018 The Lawrence Journal-World. All rights reserved. This material may not be published, broadcast, rewritten or redistributed. We strive to uphold our values for every story published.