Photo Gallery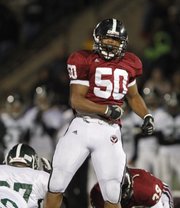 Lawrence High v. Free State football
Images from Friday night's City Showdown.
Lawrence High football coach Dirk Wedd's postgame speech to his players wasn't filled with anger or frustration following the Lions' 28-14 home loss to Free State on Friday night.
"I told them I loved them, and that I was very proud of them," Wedd said. "The character they showed tonight, the heart they showed tonight ... I've got a whole bunch of successful citizens in there, because they understand what it is to roll up their sleeves and go to work."
The defeat still stung, as evidenced by the red eyes of both quarterback Brad Strauss and receiver Will Thompson as they left the locker room.
"Our goal is always to defeat Free State at the end of the year, but right now, we've got to worry about bigger and better things," Thompson said, "and that's the playoffs and hopefully make a run at state."
Lawrence's biggest struggle Friday night was keeping Free State defenders out of the backfield.
Strauss was sacked or brought down for a loss eight times. In addition, the Lions mustered just 44 rushing yards on 24 attempts.
It also was a quiet night from senior running back Tyrone Jenkins, who finished with seven carries for nine yards.
"We couldn't knock them off the ball to get any running game," Wedd said. "I would've loved to get Tyrone 20 carries, but we couldn't get him back to the line of scrimmage sometimes."
That kind of penetration forced LHS mostly to abandon the run. For a majority of the second half, Wedd elected to empty the backfield, deploying five receivers in hopes his skill position players could get open in the passing game.
Many times, Free State responded by bringing additional pressure, playing man defense on each of the receivers while sending an extra pass-rusher at Strauss.
"They did a really good job controlling the gaps up front," Strauss said. "Our offensive line, they blocked hard, but they just brought so many guys ... it's tough."
The biggest defensive play for Free State came midway through the fourth quarter, with the Firebirds leading, 21-14.
On a first down from the LHS 20, Strauss' pass was tipped in the air by Keith Loneker, then intercepted by Cody Stanclift, who returned it for a touchdown.
The play was a quick out pattern, and Strauss said he saw a receiver was open.
"I just didn't even see the (linebacker)," Strauss said. "He got his hands up. He made a great play."
Strauss finished 18-for-35 for 192 yards passing with two touchdowns and the one interception. He was held to 35 rushing yards on 17 carries.
"We're just disappointed. That was a big game," Strauss said. "It's not all bad, though, because we've got at least one more week — in the playoffs.
"They didn't take away any of our goals for this season. Our goal coming into the season was to win a state championship, and that loss didn't do anything to hurt us."
LHS (7-2) will open the playoffs next week with a road game Friday against Gardner-Edgerton.
"I can't wait to coach them (Saturday) morning," Wedd said. "We're going to roll up our sleeves and get back to work."
Copyright 2018 The Lawrence Journal-World. All rights reserved. This material may not be published, broadcast, rewritten or redistributed. We strive to uphold our values for every story published.