Photo Gallery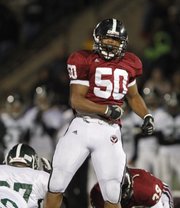 Lawrence High v. Free State football
Images from Friday night's City Showdown.
Free State High senior quarterback Kyle McFarland knew how valuable teammate Cody Stanclift could be with his hands and footwork as a blocker at right tackle.
After Friday night's regular-season finale at Lawrence High, McFarland had an even higher level of respect for those attributes because of how Stanclift used them as a defensive end.
Stanclift, a 6-foot-2, 250-pound senior lineman, intercepted LHS quarterback Brad Strauss's pass at the seven-yard line after FSHS junior linebacker Keith Loneker knocked the throw off course. Stanclift took the pick and scored the decisive touchdown with 5:52 left in the fourth quarter of the City Showdown, setting the stage for a 28-14 FSHS victory, which clinched the District 1 championship for the Firebirds.
Lions senior defensive back Drake Hofer had just picked off a McFarland pass in the end zone to give LHS the ball in a one-possession game. On the first play of a potential game-altering drive for Lawrence, Loneker came off the edge knowing Strauss would throw the ball quickly, as he had been all night. The linebacker swatted the throw high into the air, and Stanclift tracked it down before the batted pass could hit the turf.
"That changed the whole game," McFarland said, "because they had momentum. They could've drove it down and scored."
Because LHS (7-2 overall, 2-1 district) always goes for two after a touchdown, a Lions TD drive could have meant a Free State deficit late. Loneker helped prevent that with his backfield pressure and quick hands.
"I was just looking for a broken play," Loneker said, "but Cody had it right there, and once he got that interception, I was jacked. It was crazy."
In a game full of momentum swings, Free State coach Bob Lisher said Stanclift's pick-six had to be the biggest turning point.
"We tipped a lot of balls and were close, but that was just an opportunity right there," Lisher said. "To take it in and get a two-touchdown lead was huge, absolutely huge at that point."
Relentless as usual, Lawrence's offense did its best to cut into Free State's 14-point advantage on the next possession. The Lions picked up four first downs, courtesy of a Tyrone Jenkins run and passes from Strauss to Will Thompson and Erick Mayo. But after getting first-and-goal at the six, a pair of penalties backed LHS up to the 16, and great efforts from Hofer and Mayo on would-be touchdown grabs went as incompletions to end the drive with 2:44 to play.
Strauss completed 18 of his 35 passes for 192 yards and two touchdowns, but his 35 rushing yards on 17 carries were the direct result of the Free State defense hitting and taking down the dual-threat QB in the backfield.
Junior FSHS defensive end Fred Wyatt, junior linebacker Blake Winslow, Loneker and senior lineman Riley Buller all played a part in tackling Strauss behind the line of scrimmage eight times in the rivalry game.
The final blow came immediately following an LHS fumble recovery by Kharon Brown in the final two minutes. On what proved to be Lawrence's final play from scrimmage, Winslow sacked Strauss, forcing a fumble, and Loneker jumped on the loose ball.
"Our linemen," Loneker said, "they did exactly what they needed to do so me and Blake could do what we needed to do."
A 6-0 LHS lead, coming in the first quarter on a nine-yard TD catch by Mayo, stood until late in the second quarter.
After Mayo intercepted a McFarland pass with 4:21 to go in the second quarter, Free State's defense responded by forcing a three-and-out. Then the Firebirds (8-1, 3-0) went on an 11-play, 73-yard TD drive to take a 7-6 lead 36 seconds before halftime. McFarland — who finished with 209 passing yards and two touchdowns — did most of the damage on the drive, with 71 yards of total offense. Then Joe Dineen leapt over linemen and the goal line for a one-yard rushing touchdown.
Said McFarland of the drive: "We took a lot of momentum out of them."
Free State forced another three-and-out on defense to open the second half, and McFarland capped his team's second straight scoring drive with a 15-yard TD pass to Tye Hughes with 7:46 left in the third quarter.
Although LHS tied the game at 14 a little more than five minutes later when Will Thompson's clever footwork kept him in bounds in the end zone on a 19-yard TD pass from Strauss, Free State responded.
On the second play of the fourth quarter, McFarland hit Zach Bickling for a three-yard score, and the Firebirds re-gained the lead, 21-14.
Following what Lisher called a heavyweight battle between two good teams, he made clear the significance of the victory.
"It's always nice to win the district for the sole purpose of getting that first home game (in the playoffs)," the coach said.
According to the Wichita Eagle, the Kansas State High School Activities Association has confirmed Free State will play host to Olathe North on Friday.
BOX SCORE
Free State 28, Lawrence 14
FSHS LHS
First downs 13 10
Rushes-yards 45-100 24-44
Passing yards 209 192
Total offense 309 236
Return yards 28 78
Fumbles-lost 2-1 1-1
Penalties-yards 6-40 5-25
Score by quarters
FSHS 0 7 7 14 — 28
LHS 6 0 8 0 — 14
Individual statistics
Rushing
FSHS: Kyle McFarland 23-57, Joe Dineen 17-40 TD, TJ Cobbs 3-5, Team 2-minus-2.
LHS: Brad Strauss 17-35, Tyrone Jenkins 7-9.
Passing
FSHS: McFarland 15-21-209 2 TDs 2 interceptions.
LHS: Strauss 18-35-192 2 TDs interception.
Receiving
FSHS: Blake Winslow 2-67, Tye Hughes 4-51 TD, Dineen 2-38, Chris Heller 3-24, Khadre Lane 1-15, Keith Loneker 1-6, Zach Bickling 2-8 TD.
LHS: Will Thompson 6-132 TD, Erick Mayo 6-32 TD, Drake Hofer 2-16, Jenkins 1-2, Josh Seybert 2-1, Strauss 1-minus-1.
HOW THEY SCORED
First quarter
6:29 — Erick Mayo 9 pass from Brad Strauss. Mayo run failed. (LHS 6, FSHS 0.)
Second quarter
0:36 — Joe Dineen 1 run. Antonio Schnoneich kick. (FSHS 7, LHS 6.)
Third quarter
7:46 — Tye Hughes 15 pass from Kyle McFarland. Schnoneich kick. (FSHS 14, LHS 6.)
2:43 — Will Thompson 19 pass from Strauss. Strauss run. (LHS 14, FSHS 14.)
Fourth quarter
11:17 — Zach Bickling 3 pass from McFarland. Schnoneich kick. (FSHS 21, LHS 14.)
5:52 — Cody Stanclift 7 interception return. Schnoneich kick. (FSHS 28, LHS 14.)
Copyright 2018 The Lawrence Journal-World. All rights reserved. This material may not be published, broadcast, rewritten or redistributed. We strive to uphold our values for every story published.