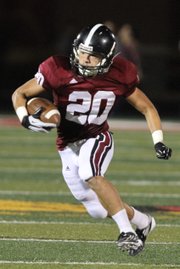 Lawrence High senior Will Thompson isn't a prototypical starting receiver.
A year ago, he couldn't even be found on the Lions' offensive depth chart, but entering the final week of the regular season, the undersized slot receiver stands out as one of quarterback Brad Strauss' favorite targets and one of the top pass-catching threats in the Sunflower League.
Though Thompson is listed at 5-foot-9, 160 pounds on the team's roster, LHS coach Dirk Wedd guessed those numbers are generous by an inch or two and a pound or twenty. Still, in a game often dominated by much larger athletes, Thompson embodies everything a coach could wish for in a player. Wedd called Thompson, who also starts at defensive back for the Lions (7-1), one of the most competitive players he has coached in a long time.
"He's one of those unique kids who you can't measure what's inside of him," Wedd said.
The LHS coaching staff knew how good Thompson was on defense as a junior corner, but the coaches hoped he could become an offensive weapon, too. They told him after last season the team would need a new inside receiver with Drake Hofer moving to the perimeter. Thompson took that news and ran with it, and lifted weights with it, and caught passes with it.
"It's all about the offseason," Thompson said. "I was out here training for a long time, catching from January on and just trying to make myself a better player."
Wedd confirmed that Thompson, who enters Friday's city showdown against Free State with 28 receptions, 509 yards and three touchdowns, is a self-made receiver. The coach said Thompson didn't have great hands until he forced that attribute on himself through hard work.
"If Brad was throwing in the gym or on the field, for the next nine months you pretty much saw Will with him," Wedd related.
Hofer, a fellow senior receiver, called Thompson's drive unbelievable.
"From last year to this year, I think he's the most improved player by far," Hofer said. "He always wants to win and hates losing."
That characteristic, like Thompson's work ethic, Strauss added, shows up all over the place.
"Every time we're running the steps, he's always one of the first ones up, and he's always the first one back down," Strauss said.
It didn't take long this season for Thompson to introduce himself as a viable receiving option. His breakout game came in his starting debut, with five catches for 103 yards against Shawnee Mission West.
And while his contributions to the team have increased significantly, he hasn't lost touch with his defensive roots. For all the yards Thompson has accumulated, senior receiver and defensive back Erick Mayo said Thompson's biggest play of the year might have come on defense. The undersized cornerback's favorite NFL player is Ed Reed, and Thompson looked like the LHS version of the Ravens' All-Pro when he destroyed a would-be Olathe South receiver with a sideline hit on third-and-long in the first half of Lawrence's 34-27 Sept. 28 home victory.
"That play sticks in my mind forever," Mayo said. "He basically changed the game right there and got the momentum back on our side."
Thompson said his Friday-night approach is to do whatever he can to help the Lions win, whether that's throwing a block, making a catch or delivering a hit.
He's looking forward to doing all of that and more at 7 p.m. Friday at LHS against rival Free State (7-1) in a game that will decide the District 1 championship for the city's playoff-bound programs.
"It's a big deal," Thompson said. "We've always got our mind set on beating Free State at the end of the year. It's always a big accomplishment if we do it, like last year. They're a real good football team, and it's gonna be a real big challenge."
Copyright 2018 The Lawrence Journal-World. All rights reserved. This material may not be published, broadcast, rewritten or redistributed. We strive to uphold our values for every story published.