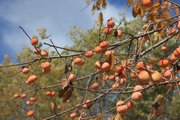 Besides the changing leaves, autumn brings a bounty of fruits and vegetables.
Sweet potatoes, winter squash, chestnuts and apples are just ending their harvest, and fall greens, radishes and turnips are at their prime.
Persimmons are also ripening right now. Because of their perishability, this is about the only time you might find them except in value-added products like jellies and jams.
Some of the persimmons available today are just like the ones on your grandmother's farmstead, and they are a still a great choice to grow. There are hundreds of other varieties out there now, too, selected for specific fruit qualities and tree size.
All of the varieties originate from two species — the American or common persimmon, Diospyros virgininia, and the Japanese or Oriental persimmon, Diospyros kaki.
Oriental persimmons are more common in production but are better suited to southern climates. Common persimmon is native to the eastern part of the United States, stretching into the east-central and southeast portions of Kansas. It has few insect and disease problems.
A notable specimen can be seen here in Lawrence in front of Strong Hall on the Kansas University campus.
Persimmons look like big, bright orange blueberries and are typically about an inch in diameter. They are sweet but mild and best eaten fresh. They are also often incorporated into breads, puddings and sorbets. They can be frozen for a short time or dried.
The common persimmon also contains tannins that go away with ripening. Some of the Oriental varieties lack the tannins and are referred to as nonastringent types.
Anybody who has tasted a green persimmon can likely remember the puckering dryness of the fruit. In this area, freezing temperatures induce ripening and are a good rule-of-thumb to avoid a bitter persimmon.
Persimmon trees' biggest downfall may be their size — the common variety is 20 feet to 40 feet tall at maturity, and many of the Oriental varieties are 20 feet to 25 feet tall.
Also, common persimmons are sometimes dioecious, meaning that male flowers and female flowers are born on separate trees and both are needed for fruit production. There are some persimmon trees that are self-fruitful, however. If planting one named cultivars, check with the nursery regarding whether the tree can produce fruit on its own.
In smaller yards or planting areas, Oriental persimmons are the best option. Just pay close attention to the USDA Hardiness Zone. Lawrence and Douglas County are listed as Zone 6. "Saijo" is a very popular Oriental persimmon variety that is reportedly hardy here. Another variety, "Ichi-Ki-Kei-Jiro" is also listed as hardy to zone 6 and only grows to a mature size of 8 feet to 10 feet tall.
Ask your local nursery if they grow, sell or can get persimmon trees for you if interested. They can also be purchased from nurseries that specialize in fruit trees.
If left unpicked, persimmons will fall to the ground and are favored by small wildlife and deer.
Persimmon trees also have attractive, scaly, dark gray bark, and the wood is valuable for fine woodworking (in the same family as ebony). The fall color of the leaves ranges from yellow to reddish-purple.
A bit of folklore surrounds the persimmon fruit. Supposedly, if you cut a persimmon in half, the seeds will be shaped like eating utensils that can predict the coming winter's weather.
The Farmer's Almanac says that fork-shaped seeds tell of a mild winter, while knife-shaped seeds predict icy coldness and wind. Spoon-shaped seeds represent the shovel you will need to dig out from heavy snows.
— Jennifer Smith is the Horticulture Extension Agent for K-State Research and Extension in Douglas County. Contact her or an Extension Master Gardener with your gardening questions at 843-7058 or dgemg@sunflower.com.
Copyright 2018 The Lawrence Journal-World. All rights reserved. This material may not be published, broadcast, rewritten or redistributed. We strive to uphold our values for every story published.