Photo Gallery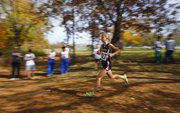 Sunflower League Cross Country
Images of Free State and Lawrence High cross country runners from Monday's Sunflower League Championships at Rim Rock Farm.
No one had a shot at catching Shawnee Mission West senior Alli Cash on Monday afternoon at the Sunflower League girls cross country race.
But Lawrence High senior Grace Morgan saw her opportunity to become the league's runner-up at Rim Rock Farm.
Nearly two minutes after Cash won the league championship in 14 minutes, 16.2 seconds, Morgan chased Olathe Northwest's Cameron Gueldner downhill toward the finish line. Gueldner had a significant lead more than 100 meters out, but Morgan closed ground with each stride.
The closer the two came to the finish line, the more it appeared Morgan would pass her competition for second place, but Gueldner (15:57.4) just held her off by six-tenths of a second.
Upon realizing she finished third, Morgan (15:58) grimaced and held her head as she walked through the chute disappointed. It didn't take long, however, for her to appreciate what she had accomplished on a warm, sunny fall afternoon.
"I just wanted to push myself with all my energy, because definitely in the past I haven't been doing that," Morgan said with a laugh. "I'm glad I did it, even though it didn't end up the way I wanted it to. I was proud of my effort."
Morgan also was pleased with her team's performance. Lawrence finished sixth, with Claire Sanner (16:34.4) earning 10th and Emily McEntire (16:45.4) placing 14th.
"In the summer we worked harder than we have in the past," Morgan said. "We've kind of been seeing the benefits of it. It's really exciting to have a team that's working hard and getting great results out of it."
The league championship races had been scheduled for Saturday but were pushed back two days due to inclement weather.
After the Free State girls finished eighth, FSHS junior Molly McCord (16:53.7, 19th) said all the runners noticed the change in their routines.
"I think it threw us all off, especially being at school," McCord said. "We've never had that happen."
If any advantage existed for McCord, it was the layout of the trails.
"I really like hills," McCord said. "I just kind of go after it on the hills, so this is my favorite course."
The bad news for everyone who bounded up and down those slopes, though, is that the race's postponement means regional races are coming up quicker than usual this Saturday.
McCord said Rim Rock leaves runners beaten.
"You'll feel it for a couple of days," she said.
FSHS junior Bailey Sullivan (16:57.6) finished 22nd, and teammate Rosemary Newsome (17:35.6) was 37th.
Olathe Northwest won the league championship.
Free State boys 5th, Lawrence 10th
The FSHS boys found out at the Sunflower League championships that race times don't always go as planned.
The Firebirds finished fifth in the team standings on the same day someone not named Trail Spears was the first Free State runner to cross the finish line for the first time this season.
A senior, Spears usually leads the FSHS group, but Monday that distinction went to sophomore Ryan Liston (17:40.8), who overtook his teammate, senior Fletcher Koch (17:41.3), for 13th place just steps in front of the finish line.
Liston said the runners have a competitive promise that they won't hold back against each other.
"Our entire team has been pretty bunched up this season," Liston said. "It's been really good. We've just been pushing each other along the entire season."
The sophomore said there was no telling what helped him emerge from the Free State pack.
"I think it was kind of the adrenaline keeping me going," Liston guessed.
Koch took 14th, Ethan Donley (17:59.6) finished 24th, and Spears (18:11.3) was 34th for the Firebirds.
Lawrence's boys placed 10th at the league meet. Senior Gavin Fischer, who led the Lions in 18:18.4 and finished 38th, said the league race is always one of the most difficult events on the calendar.
"You know you're facing a higher level when people come out competitively on days when you don't necessarily have the best running conditions on a really hard course," Fischer said of a warm afternoon race on a school day, "and there's always tons of kids coming out with really good times. You have to just really be on your game."
The Lions' Thomas Ezell finished 45th in 18:36.4.
Led by champion Clayton Henderson and runner-up Kirk Bado, Shawnee Mission Northwest won the Sunflower League title.
Runners from LHS and FSHS will compete Saturday at a Class 6A regional hosted by Blue Valley West at Lone Elm Park.
Copyright 2018 The Lawrence Journal-World. All rights reserved. This material may not be published, broadcast, rewritten or redistributed. We strive to uphold our values for every story published.