After a 49-6 district-opening victory over Kansas City (Kan.) Wyandotte Friday night at Free State Stadium, in which Free State led 42-0 at halftime, the Firebirds sang the alma mater with the few remaining fans who stuck out the halftime drizzle and formality of the second half, then took a knee in front of coach Bob Lisher, who delivered a message directly on point.
Photo Gallery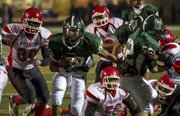 Free State football vs. Wyandotte
First, Free State won the game. Second, the entire roster got some valuable game experience. Third, next week's game at Leavenworth will be much more difficult. Leavenworth, despite what a 46-26 loss Friday night to Lawrence High might look like, is not the slouch it used to be. Now coached by former St. Thomas Aquinas coach Kevin Kopecky, Leavenworth, the former Sunflower League cellar dweller, has a 3-4 record, and all three wins came in stiff league play.
Wyandotte, however, offered little resistance to Free State, which was playing its first game of the season outside the league.
"Our guys came out and played and did what they had to do be successful tonight," said Lisher. "We were very concerned all week with Wyandotte's offense and things they were doing defensively, but our guys came out and took care of business, and the game kind of went as we hoped it would go."
Free State gained 309 yards of offense in the first half, led by Kyle McFarland's 106 passing yards, including a 70-yard touchdown pass to Sam Hearnen, and T.J. Cobbs' 80 rushing yards. Wyandotte did not move the ball and suffered in the punting game, and Free State used short field position on its first three scoring drives of 7, 36 and 47 yards to lead 28-0 at the end of the first quarter.
After the win, Lisher reminded his team that Leavenworth stayed close to the Firebirds in last season's meeting, a 23-12 Free State win in which the margin was just 16-12 in the final minutes. Leavenworth went on to earn a berth in the state playoffs last season for the first time since 1980. Lisher said the coaching staff would go to work right away to prepare for the Pioneers.
"We don't know a whole lot about Leavenworth yet," he said. "They've been playing people tough, and they've been winning some games, and they've got a lot of people back from last year."
It was easy to look ahead to the next game after a win over Wyandotte that was never in doubt and dragged along at times, as Wyandotte insisted on sticking to its passing game led by quarterback Dimonic McKinzy, reportedly a Division I recruit. McKinzy threw the ball 32 times, connecting eight times for 102 yards. Free State repeatedly flushed him out of the pocket to the flat, usually forcing the right-hander to force a throw against his body to the sideline.
"We won up front," Lisher said. "Defensively, we were swarming to the football and had good coverage and had good pressure all night long, and that's what you've got to do against a good, athletic team like Wyandotte.
"(On offense) we could throw the ball when we wanted to, and we could run."
Cobbs rushed 15 times for 125 yards, and Demarko Bobo ran nine times for 81 yards. Seven different players rushed the football for 284 yards.
There was one glaring weakness in Free State's overwhelming win. Free State had seven first-half penalties totalling 57 yards. The No. 1 Firebirds might have to do better in that category next week against Leavenworth if they want the following week's showdown with Lawrence High to be for the outright district title.
"Coach Lisher told us that we have to get that (No. 1 ranking) out of our heads, and continue to keep playing better and better," Cobbs said.
BOX SCORE
KCW FS
First downs 11 14
Rushes-yards 24-57 42-284
Passing yards 102 109
Total Offense 159 393
Return Yards 72 12
Fumbles-lost 1-1 1-0
Penalties-yards 4-15 8-67
Score by Quarters
KC Wyandotte 0 0 0 6 — 6
Free State 28 14 7 0 — 49
Individual Statistics
Rushing
KC Wyandotte: Dimonic McKinzy 12-26, Antonio Moore 10-30, TD, Jalen Flournoy 2-1.
Free State: T.J. Cobbs 15-125, 3 TDs, Demarko Bobo 9-81, TD, Joe Dineen 2-38, TD, Kyle McFarland 5-28, TD, Erik Howland 6-13, Nyle Anderson 1-2, Stan Skwarlo 4-(-3).
Passing
KC Wyandotte: Dimonic McKinzy 8-32-102, 1 INT.
Free State: Kyle McFarland 4-4-106, 2 TDs.
Receiving
KC Wyandotte: Antonio Moore 2-41, Mario Garcia 2-36, Steven Ford 2-11, A.J. Kimbrough 1-8, Kwasi Vann 1-6.
Free State: Sam Hearnen 1-70, TD, Chris Heller 1-30, TD, Tye Hughes 1-4, Saxon Mingus 1-3, Zach Bickling 1-2.
HOW THEY SCORED
First Quarter
8:13 — T.J. Cobbs 7 run. Antonio Schnoneich kick failed. (Free State 6, KC Wyandotte 0.)
4:17 — T.J. Cobbs 6 run. Kyle McFarland run. (Free State 14, KC Wyandotte 0.)
1:52 — Chris Heller 30 pass from McFarland. Schnoneich kick. (Free State 21, KC Wyandotte 0.)
0:26.3 — Sam Hearnen 70 pass from McFarland. Schnoneich kick. (Free State 28, KC Wyandotte 0.)
Second Quarter
8:35 — McFarland 1 run. Schnoneich kick. (Free State 35, KC Wyandotte 0.)
3:01 — Joe Dineen 32 run. Schnoneich kick. (Free State 42, KC Wyandotte 0.)
Third Quarter
5:18 — Demarko Bobo 16 run. Schnoneich kick. (Free State 49, KC Wyandotte 0.)
Fourth Quarter
8:13 — Antonio Moore 12 run. Moore run failed. (Free State 49, KC Wyandotte 6.)
Copyright 2018 The Lawrence Journal-World. All rights reserved. This material may not be published, broadcast, rewritten or redistributed. We strive to uphold our values for every story published.