Midway through the second half of its city showdown with rival Free State High on Thursday, Lawrence's boys soccer team found itself in a peculiar spot.
Photo Gallery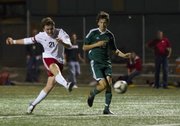 Free State at Lawrence High soccer
The Lions had just lost one of their captains, senior Johannes Reiber, for the remainder of their home rivalry game after he received his second yellow card. LHS would be forced to play a man down for the final 23 minutes.
If the shorthanded Lions wanted to survive against a pesky and increasingly confident bunch of Firebirds, someone needed to make something happen. Quick.
Of late, there's been no LHS man better for that kind of job than senior midfielder Justin Riley. Less than three minutes after Reiber's ejection, Riley's low-flying free kick from about 25 yards out torpedoed just inside the left post, giving Lawrence a 1-0 advantage that stood until the game clock hit zeroes.
"From my freshman year, you always dream about playing Free State and what happens when you score," said Riley, who has scored eight goals in Lawrence's last four games. "It's kind of surreal when it actually happens. I didn't know what I was doing. As soon as I scored I didn't know what to do with myself. I just ran over to the fans."
The rest of his teammates on the field followed their captain and a wild celebration ensued just in front of the LHS student section. That proved to be a precursor to the on-field party that took place when the game concluded. Lawrence's student section rushed the field for a mob celebration and Lions goalkeeper Jeff Mekus and defender Parker Davies were hoisted to the top of a mass of humanity as LHS celebrated its win.
The Lions (9-4-1) were a long way from elation when Reiber picked up his second yellow card. He and FSHS defender Josh Hodge — who also received a yellow card — exchanged some shoves near the sideline after the ball was out of play. Davies said LHS was lucky the Firebirds (6-8) didn't capitalize with a man advantage.
"They were playing hard and had been hanging with us for that first half," Davies said. "They're a really good team and all bets are off when it's a rivalry game, so that (playing a man down) really gave me a scare."
Lawrence coach Mike Murphy said the intensity of the game likely contributed to the lack of discipline Reiber showed, and that his cards would be addressed in practice.
"They're high school teenagers with a lot of testosterone," Murphy said. "Unfortunately, it's gonna happen."
Riley's goal accounted for one of Lawrence's 20 shots in the win, while Free State had just two. Firebirds coach Kelly Barah said his team failed to execute.
"We could not connect either the first or the second pass, let alone the last pass. We didn't give ourselves a chance," Barah said, adding that LHS contributed to their troubles by making the Firebirds play out of character.
Free State's best shot at an equalizer came in the 72nd minute. Junior midfielder Chris Allen drew a foul about 20 yards away from the goal. Allen took the following free kick, which missed wide right.
"In a tight match like that with not much time left in the game," Barah said, "we thought it would sneak in on the inside of the post. But it went on the other side. We feel like our season has been that way."
While FSHS senior goalkeeper Luke Lesslie denied seven LHS shot attempts, the Firebirds offense had no shots on goal. Murphy said the Lions controlled the defensive midfield, as well as the back line in a fantastic defensive effort.
Davies said he, Bray Kelley, Dalen Reed, Conor Henrichs and the rest of the Lawrence defense always play with confidence. That showed in the final minute, when senior defender Tristan Alfie cut off an angling Buzz Walters right in front of Lawrence's goal.
"Everybody that comes into the game is gonna be able to put in good minutes and play real well for us," Davies said. "We can't really do anything wrong when it comes to our talent."
FSHS senior defender Anthony Richardson said Lawrence played more physical and faster in the win.
"There were chances where we didn't step and we should've and let chances go by," Richardson said. "We didn't really have that many options. Our options that we did have, we didn't execute very well."
The Lions, winners of four of their last five, play Tuesday at Shawnee Mission West.
The Firebirds, on a four-game losing skid, play host to Mill Valley.
Copyright 2018 The Lawrence Journal-World. All rights reserved. This material may not be published, broadcast, rewritten or redistributed. We strive to uphold our values for every story published.