Paul Enos thought he'd be a dairy farmer until midway through his senior year of high school.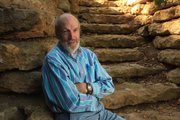 He grew up on a farm near Perry, and he assumed he'd follow in his father's footsteps. That was until his dad had a talk with him.
"My dad persuaded me that I probably wasn't farm material," Enos said. "I was always thinking about something else and forgetting to do something crucial."
His father, who'd taken a college geology course and collected fossils that he picked up around the farm, suggested he think about geological engineering. Some 60 years later, Enos, who later settled on studying geology, is set to be awarded with perhaps the highest honor in his field.
In May 2013, the retired KU distinguished professor of geology will receive the Twenhofel Medal for career of excellence in sedimentary geology from the Society for Sedimentary Geology. It's the most prestigious honor awarded by the society, the largest in the world devoted to the study of sedimentary rocks.
Enos will get the award following a career that took him around the world and finally back to Kansas, just about 20 miles from the farm where he grew up.
Enos' research — which concentrated on carbonate rocks, a group that includes limestone and contains much of the world's oil and gas reservoirs — beginning in the 1960s was part of a "golden age of discovery" in the field, said longtime KU colleague Bob Goldstein.
"This is basically how we understand the ancient rocks that we're poking all these oil and gas wells into," Goldstein said.
His research began when he worked for Shell Oil Co. in the 1960s and continued as he took a job at what's now Binghamton University in New York. He returned to Kansas, the home state for him and his wife of 54 years, in 1982 when he came to KU, his alma mater, as a distinguished professor.
Since he came to KU rather than heading to Kansas State University to study dairy husbandry as he'd originally planned, the farm-raised Kansas boy found himself enamored with the opportunities his field gave him to work with his hands outside.
"I always felt like I was more of a scientist when I was in the lab," Enos said.
Goldstein, himself a distinguished professor of geology at KU and an associate dean in the College of Liberal Arts and Sciences, said Enos carried that enthusiasm into a series of "field courses" he developed for KU geology students.
Over the course of a semester, he would prepare students for a trip to another region — perhaps Mexico, western Texas or the Grand Canyon — where they would study the geology in person. Then the class would pile into a van and drive there.
"When he'd get out there, he was like a kid in the candy store," said Goldstein, who has co-taught a number of the courses with Enos.
Enos, 78, has continued to teach the field courses since he retired, including one this past May.
The past winners of the Twenhofel Medal, which include seven other people with ties to KU, are staggering company to be among, he said.
"Just to be considered in that same company is pretty heady stuff," Enos said.
The award's namesake, William H. Twenhofel, taught at KU from 1910 to 1915, and its first winner in 1973, R.C. Moore, was a KU faculty member from 1916 to 1962.
Enos credited his colleagues and the supportive alumni of the KU geology program for helping him during his career.
Most of all, he credited his wife, Carol. She took care of two children while the couple stayed in a small cabin on the Gaspé Peninsula of Quebec, 265 miles from the nearest hospital, as Paul conducted research for his dissertation as a doctoral student at Yale. She and their kids stayed in a trailer in the mountains of Mexico with him for two summers as he conducted more research later on, and she pushed for them to go during a sabbatical to China, where Paul conducted much of his research after coming to KU.
In the field of sedimentary geology, Enos is one of the world's most important figures, Goldstein said. And he worked for much of his career in the place he belonged.
"He's such a good Kansan," Goldstein said. "He's just a perfect fit here."
Copyright 2018 The Lawrence Journal-World. All rights reserved. This material may not be published, broadcast, rewritten or redistributed. We strive to uphold our values for every story published.