At the culmination of a long, cold Saturday on Lawrence High's tennis courts, Free State junior Alexis Czapinski struggled to compose herself as she spoke with her coach, Oather Strawderman.
Too upset to talk with her teammates or anyone else after losing her final two matches at a Class 6A regional, it would be safe to assume her season was over. On the contrary, Czapinski had just finished fourth, securing a spot at next weekend's state tournament in Prairie Village.
One of the six singles players at the regional fortunate enough to keep her season alive, Czapinski's competitive drive burned after falling, 6-4, 6-2, to Blue Valley West's Kate Fries in the semifinals and, 6-2, 6-4, to Blue Valley's Alexa Tiefel in the third-place match.
While Czapinski couldn't stop thinking about the points she could've scored to change the outcome of her last two matches, Strawderman congratulated her on making it to state for a third time and being the only city player to earn that right this season.
"When she looks at all these other girls who are rooting her on and sitting and not playing anymore, they all want to be in her spot and have qualified for state," Strawderman said. "She's got lofty expectations and has done well at regionals in the past and did well today."
The coach said Czapinski, who went 2-2 at the regional, had no reason to be down on herself.
"She's so driven, and she's such a great player," Strawderman said. "Those two matches that she lost, she played her heart out."
Free State's top doubles team, Emily Sadosky and Caitlin Dodd, came a set away from joining Czapinski as state qualifiers. After winning their first-round match, the No. 9 seed Firebirds lost in the quarterfinals, and their day ended in the consolation semifinals with a 4-6, 6-2, 6-0 loss to No. 5 seed Taylor Stout and Haley Dunkak of Olathe South.
A senior, Sadosky was glad to have had a chance to qualify for state with Dodd, a freshman.
"It was great. We played really well our first set, and then we just lost a little bit of energy, and the momentum swung into their direction," Sadosky said. "In the second set, we kind of walked on the court and didn't move our feet, and they picked up on our lack of energy and took advantage,"
A health issue kept FSHS sophomore Megan McReynolds from participating in the singles bracket. Her replacement, Rachel Walters, was swept in the first round. The Firebirds' doubles team of Taylor Hawkins and Alyssa Raye also lost their only match.
Lions eliminated early
Lawrence lost all four of its first-round matches at the regional, making for a quick morning. But the Lions doubles team of Abby Gillam and Zoe Schneider didn't go down without battling Sadosky and Dodd. The Firebirds needed a first-set tiebreak and a super tiebreak to beat LHS, 7-6 (8-6), 0-6, (11-9).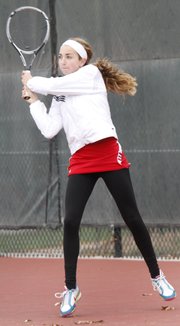 Gillam, a senior, said the windy conditions and 40-something-degree temperatures increased the stress of the match.
"We fought as hard as we could, and I'm really proud of us for that," Gillam said while fighting back tears.
Sadosky and Dodd had lost to Gillam and Schneider at an LHS quadrangular in early September.
"Obviously, there was a lot more pressure on us today," Gillam said. "That's no excuse or anything. They had some really great shots and really great points.
"Zoe and I knew from the get-go we couldn't let that (pressure) get to us. We didn't, but sometimes that (losing a tight match) just happens."
While Gillam and Schneider were a No. 8 seed facing No. 9 seed FSHS, the Lions entered the rest of their matches as underdogs. No. 13 Kendall Pritchard and No. 11 Whitney Simons lost their first-round singles matches and doubles partners Lily Abromeit and Brooke Braman (No. 15) were swept out of the opening round.
LHS coach Chris Marshall said it was a disappointing end to what had been an enjoyable season, especially for seniors Gillam, Abromeit and Braman.
"The problem was we'd been playing such good tennis that I thought we could play a little bit above where we were seeded," Marshall said. "We had our shots and that's all you can ask for."
Copyright 2018 The Lawrence Journal-World. All rights reserved. This material may not be published, broadcast, rewritten or redistributed. We strive to uphold our values for every story published.