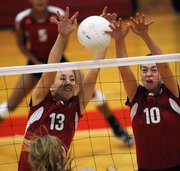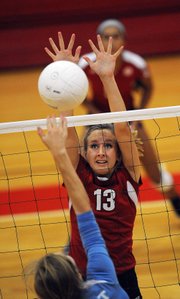 Earlier this week, Lawrence High coach Stephanie Magnuson told her players they couldn't leave practice until they produced a comeback victory in a scrimmage against the junior varsity.
The tactic appeared to pay off Thursday, when the Lions put together a huge rally in their first set to take a 26-24, 25-22 victory over Shawnee Mission East.
LHS later defeated Olathe North, 25-14, 25-17, to complete the sweep at its home triangular.
"We didn't give up tonight like we have been in the past," LHS senior Monica Howard said. "We kept fighting every point."
The Lions trailed 19-9 against Shawnee Mission East before scoring seven straight points, which included four kills from Howard and two aces from junior Caitlin Broadwell.
"We started out a little cold, and we finally woke up," Broadwell said. "I really focused on my serves to make those over and in."
LHS later faced set point while trailing 24-21 before scoring the final five points, with junior Sami Buffalomeat contributing a kill and senior Alexis Mountain adding an ace.
The comeback was similar to practice, when Magnuson gave her JV squad a 20-15 advantage and told her varsity players they couldn't leave until they won a match to 25.
Finally, after a few tries, the varsity prevailed.
"We've needed to have that reminder," Magnuson said, "that it's not over till 25."
LHS didn't need dramatics in its second match against Olathe North, dominating in part because of strong serving.
The Lions racked up 12 aces in the two sets, with six coming from Broadwell and four from senior Brea May.
"When we serve aggressive, and we're all hammering the ball on the serve, it mentally crushes the other team once they shank two in a row," Howard said. "It just puts you in a bad mood. We just kept serving hard at them, and it was working for us."
At one point, Olathe North failed to return five straight Broadwell serves.
"I just felt really focused," Broadwell said. "The crowd's energy was awesome. That helped out a lot, too."
Magnuson was happy with the aggressiveness of all her servers, including Howard and Buffalomeat, who both added aces against O-North.
Buffalomeat and Broadwell led LHS (13-9) with six kills apiece in the second match.
Copyright 2018 The Lawrence Journal-World. All rights reserved. This material may not be published, broadcast, rewritten or redistributed. We strive to uphold our values for every story published.