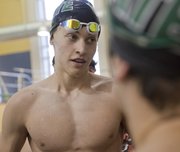 As their victory total kept increasing throughout the afternoon Wednesday at Lawrence Indoor Aquatic Center, Free State High's swimmers almost couldn't believe their debut success.
By the time all 12 events concluded at the FSHS quadrangular, the Firebirds had accumulated 10 first-place finishes to beat out Shawnee Mission South, Lawrence and Leavenworth for supremacy at their season-opening home quad.
"We definitely exceeded where we thought we would be," FSHS senior Connor Munk said after winning the 100-yard freestyle and 100 back.
With individual victories in the 200 IM and 100 fly at the quad, Free State junior Hunter Robinson also contributed to first-place finishes in the 200 medley (with Munk, Kyle Yoder and Jack Ziegler) and 200 free relay (with Nickolas Becker, Yoder and Nolan Stoppel).
"It's definitely a good start," Robinson said of the Firebirds' dominance. "It just shows we're gonna improve a lot over the season, because we've been working hard. To come out at the first meet and kind of run away with it was great."
Munk, who helped FSHS win the 400 free relay as well (with Ziegler, Becker and Josh Saathoff), left impressed with his teammates.
"We definitely showed what we've got on our team," he said. "It was awesome. We're gonna be good this year, hopefully."
Ziegler (50 free), Cooper Schmiedeler (500 free) and Yoder (100 breast) also won.
Said cautiously optimistic FSHS coach Annette McDonald: "Of course we've got work to do, but I'm really, really pleased."
Lawrence, meanwhile, took third place behind FSHS and SM South. Coach Kent McDonald called the season opener an important learning experience for what he considers a young team.
"Now they know why they've been doing all this training and stuff," the LHS coach said. "They know what a meet's like."
Some of the Lions' top showings included three third-place finishes: from senior Adam Edmonds in the 200 IM, senior Nathan Evers in the 100 fly and junior Tim Schraad in the 100 back. John Eakes took fourth place in the 100 breast, and Edmonds finished fourth in the 100 free.
Kent McDonald said veterans such as Edmonds, Evers and Schraad don't only score points but also keep watchful eyes on their young teammates.
Copyright 2018 The Lawrence Journal-World. All rights reserved. This material may not be published, broadcast, rewritten or redistributed. We strive to uphold our values for every story published.