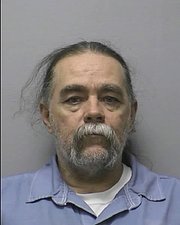 A Kansas inmate convicted in a 1993 Jefferson County murder is seeking DNA testing that could potentially lead to a new trial.
Bradley Wade Johnson, 55, was convicted of murdering Ben Creek in March 1993. According to court documents, Johnson and co-defendant Frank Sutton, who was also convicted in the case, met Creek at a bar in Topeka.
Witnesses testified that Johnson was seen with Creek and Sutton the day before Creek's badly beaten body was found in rural Jefferson County.
Prosecutors alleged that the murder occurred after Johnson and Sutton kidnapped and robbed Creek. Both Johnson and Sutton are serving life sentences in the case.
Johnson, in numerous appeals over the years, has contended that it's a case of mistaken identity.
At trial, prosecutors presented hair evidence found on Creek's body. At the time, testing could only show that the hairs were consistent with Johnson.
However, newer DNA testing could conclusively identify the source of the hairs, said Topeka lawyer Jonathan Phelps, who is Johnson's attorney and filed the motion.
On Tuesday, a Jefferson County judge ordered the re-testing of the hairs, as well as well testing of blood found on Johnson's clothing, Jefferson County Attorney Jason Belveal said.
The evidence will be sent to the Kansas Bureau of Investigation for testing, which could take several months, according to Belveal.
Copyright 2018 The Lawrence Journal-World. All rights reserved. This material may not be published, broadcast, rewritten or redistributed. We strive to uphold our values for every story published.