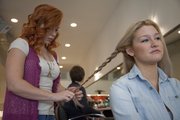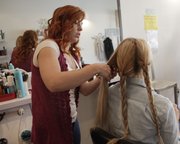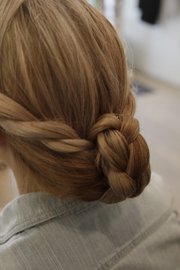 Hair braids are all the rage this season, and with tips from local stylists, almost anyone call pull off this trend.
Megan Riley, a stylist at Green Room Salon, 924 1/2 Massachusetts St., said she has noticed an increased interest in braids, due in part to the popular website Pinterest.
Pinterest provides an endless array of braided styles, and YouTube provides step-by-step video instructions on how to create these styles, Riley said.
LaVonna McAlister, salon owner and stylist at Color Studio, 2330 Yale Road, said she has also noticed the popularity of braids among her clients.
"I think that braiding adds texture to the hair, and I think over the last few years texture is coming back," McAlister said.
And women with short to medium hair are not excluded from this trend.
"A single braid in front or to the side became very popular about a year ago," McAlister said. "Lots of people with bobs are braiding the front of their hair on the side."
McAlister and Riley shared a few tips for those who want to try these trendy twists and braids on their own hair.
First, these stylists said braids work best on hair that has not recently been shampooed.
"Braiding is one of those ways to prolong washing," Riley said.
McAlister recommends skipping shampoo the day before braiding and added that products like dry shampoo can also help braids stick.
"For the braid to stick, you have to have product in the hair," McAlister said. "You almost have to make the hair dirty."
Riley recommends working in sections for most braid styles. Merging several braids together into one style can create a unique look in little time, Riley said.
"Braids end up looking more complicated then they are," she said. "You can make braids as hard or as easy as you want."
Riley said the best advice she can give to those who want to learn new ways to braid their hair is practice, practice, practice.
"Practice makes perfect," she said.
Riley demonstrated three braids that can be used to spruce up an everyday look or be worn to upcoming holiday parties and formal events.
Braid-N-Bun
Riley's first style, the "braid-n-bun," involves three braids. First you divide the hair in three sections and braid each section. After the sections are braided, Riley gently pulls on each braid to give the braids a fuller look.
"It's great for girls who have finer hair," Riley said.
Next Riley twists the sections into individual buns. Use bobby pins and hair spray to secure the buns.
Twist and Tuck
For the next style, called the "twist and tuck," twist two small sections of hair on each side of the head. Secure these twists with a hair tie, and braid the remaining hair in a single braid at the back of the head. To finish this look, connect the twisted sections of hair in the middle of the head with a hair tie and tuck the braid into the twists.
Riley recommends this look for formal occasions.
"It's great for weddings," she said.

Waterfall Braid
Riley said the waterfall braid is one of the trendiest braids this season.
To create the waterfall braid, Riley starts with a side french braid. As she gathers more hair into the braid, she drops a section of hair. Riley continues to drop sections out of the braid, which creates the waterfall look.
Riley describes this braid as one of the more difficult ones to replicate and recommends YouTube for those who wish to create this look on their own hair.
"I watched three different YouTube videos before I got it," she said.
Copyright 2018 The Lawrence Journal-World. All rights reserved. This material may not be published, broadcast, rewritten or redistributed. We strive to uphold our values for every story published.