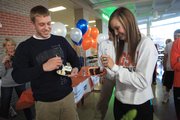 A year ago, as a junior at Free State High, Kennedy Kirkpatrick thought she had firmly carved out her path to college basketball.
The Firebirds guard orally committed to the University of Wisconsin-Green Bay and assumed her future was set. That all changed when former Green Bay coach Matt Bollant left to take over the women's basketball program at Illinois.
Unfamiliar with the new staff, Kirkpatrick re-opened her recruitment after her Class 6A all-state junior season. The 5-foot-10 guard visited Green Bay again, as well as Creighton and Bowling Green — a program that had recruited Kirkpatrick in the past and went through a coaching change of its own.
"I went up there not really knowing who they were or what conference they were even in," Kirkpatrick said of the Mid-American Conference program in Bowling Green, Ohio.
The senior soon discovered she liked what the Falcons and first-year head coach Jennifer Roos had to offer. Namely, Bowling Green has won the MAC regular-season title seven of the past eight seasons and qualified for the NCAA Tournament four times in that span.
"That was something I was looking for," Kirkpatrick said after signing a national letter of intent with BG on Tuesday at FSHS, "was just (for a program) to be competitive and look for somewhere I'd have the opportunity to play my freshman year."
Kirkpatrick, who made her official visit less than two weeks ago and watched the Falcons dispose of Madonna in their regular-season opener, thinks she will fit well in Roos' system.
"It's cool to finally sign," she said, smiling widely. "I'm so relieved, and I'm so happy with the decision I made."
The BG coach is glad to have Kirkpatrick on board.
"Kennedy is one of the most talented shooting guards in the Midwest, who can score in a variety of ways," Roos said in a release on the team's website. "Not only does she have a scoring mentality, but she is proven scorer at the top high-school level and AAU level. She truly values what it means to be a team player, and will set high goals for the team and herself to achieve as a freshman."
After making her decision official, Kirkpatrick (who averaged 18.4 points, 4.3 rebounds and 3.2 assists last season) said she couldn't have done so without her parents, Jeff and Janette, her family and teammates.
Now she can focus on helping the Firebirds accomplish something they haven't done since Kirkpatrick's freshman year.
"We're setting our goals high," she said. "I want to go to state, and that's one of the team goals this year."
Copyright 2018 The Lawrence Journal-World. All rights reserved. This material may not be published, broadcast, rewritten or redistributed. We strive to uphold our values for every story published.