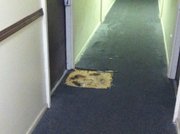 Photo Gallery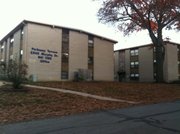 Suspected arson cases
A look at some of the apartment buildings targeted in a string of recent suspected arson cases in Lawrence.
Related document

Recent suspected arson cases ( .PDF )
A fire early Sunday morning bears similarities to a string of suspected arsons reported by public safety officials during the past couple weeks in Lawrence.
Fire officials, who have sought public assistance, have released little information about the cases. They have said they suspect arson in fires reported since Oct. 19 in an area from 23rd Street south to 25th Street and from Iowa Street east to Naismith Drive.
Sunday's fire was reported shortly before 4 a.m. at an apartment complex at 1703 W. 24th St., according to Mike Frizzell of the Journal-World's reporting partner, Operation100 News. The building had filled with smoke and there were reports of a "bag of chips" on fire in a third floor hallway. Crews quickly extinguished the fire, and no injuries were reported.
On Monday, Fire Chief Mark Bradford declined to provide more information about the fire but did release a fire report, which categorized the fire as an arson.
Bradford did not say whether officials believe Sunday's fire was related to the string of suspected arsons. He has declined to provide information on any of the suspected arsons.
The Journal-World filed an open records request last week for all fire reports in Lawrence since Oct. 19. Those reports — provided at a cost of $110 — detailed nine fires that fit a similar pattern.
Here are the times, dates and locations of those nine cases:
• 11:15 p.m. Friday, Oct. 19, 2340 Murphy Drive.
• 3:58 a.m. Wednesday, Oct. 24, 2429 Redbud Lane.
• 1:49 a.m. Saturday, Oct. 27, 1732 W. 24th St.
• 9:20 p.m. Monday, Oct. 29, 1722 W. 24th St.
• 1:35 a.m. Tuesday, Oct. 30, 1733 W. 24th St.
• 3:13 a.m. Friday, Nov. 2, 1504 W. 24th St.
• 4 a.m. Sunday, Nov. 4, 2350 Ridge Court.
• 7:03 p.m. Tuesday, Nov. 6, 2414 Cedarwood Drive.
• 4:57 a.m. Wednesday, Nov. 7, 1018 W. 24th St.
According to the fire reports, eight of the nine reported fires were at multi-unit apartment complexes, while one fire occurred in a trash receptacle. On five of the reports, "arson" is indicated.
In several of the cases, fire crews arrived to find materials such as papers on fire in hallways at the apartment complexes. None of the fires caused major damage, and there have not been any reported injuries as a result of the fires.
Check LJWorld.com for updates as they become available.
Copyright 2018 The Lawrence Journal-World. All rights reserved. This material may not be published, broadcast, rewritten or redistributed. We strive to uphold our values for every story published.