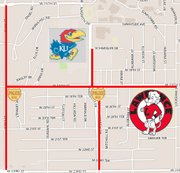 Two big games with two big crowds may cause a major traffic snarl tonight in the neighborhood between Lawrence High School and Allen Fieldhouse.
Sports fans will be pouring into the area for the two games, both starting at 7 p.m. Lawrence High football hosts Shawnee Mission West in a quarterfinal playoff game, while Kansas University's men's basketball team plays its regular-season home opener against Southeast Missouri State.
The Lawrence Police Department will direct traffic on 19th Street at Naismith Drive and at Iowa Street. Kim Murphree, a Lawrence police spokeswoman, said residents should be aware of the game traffic leading to and from the area.
Parking space in the area is likely to be in short supply, too.
High school football fans and basketball fans alike usually use Lawrence High's north parking lot along 19th Street. But Mike Norris, assistant principal at Lawrence High, said the lot is likely to be very full for the playoff football game. He said he hopes basketball fans won't try to park there, understanding that the high school needs its parking lot Friday night.
"It's usually pretty full just with any home football game. The space will probably be limited" Norris said. "So, we would prefer people not do that."
Norris said he and other faculty members may go into the lot before the game to persuade basketball fans to park elsewhere.
Copyright 2018 The Lawrence Journal-World. All rights reserved. This material may not be published, broadcast, rewritten or redistributed. We strive to uphold our values for every story published.