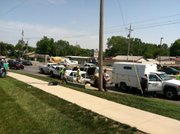 A Lawrence police officer pulled an injured 77-year-old man from a five-vehicle crash Wednesday afternoon near Sixth Street and Kasold Drive and began performing CPR on him before medics arrived.
Officer Charlie Stewart was first on the scene of the chain reaction crash about 2:30 p.m. and began assisting the driver of a Cadillac that crashed into vehicles that were stopped at a light in the westbound lanes of Sixth Street, said Sgt. Trent McKinley, a Lawrence police spokesman.
The injured man had no pulse and was not breathing when Stewart performed CPR for several minutes. Once medics arrived, the man, who police did not identify Wednesday, was taken by ambulance to Lawrence Memorial Hospital and was later transferred to a Kansas City area hospital in serious condition, McKinley said.
"At this point preliminary investigation indicates that the driver of the Cadillac had a medical issue while he was driving and struck the other vehicles," McKinley said.
The Cadillac struck the back of a pickup truck, and it caused a chain reaction that involved three other vehicles in front of the pickup truck, including a city vehicle.
Another driver was also taken by ambulance from the scene with less serious injuries.
Martin Villagran of Topeka was driving in front of the crash and was the last one struck. He said the four vehicles that were hit as part of the chain reaction were all stopped waiting for a red light when the accident occurred.
"It surprised me," Villagran said. "Hopefully the guy will be all right."
The crash caused major traffic issues into the rush hour as the city advised drivers to avoid the westbound lanes of Sixth Street in the area. A police mapping team for several hours investigated the crash in the far right westbound lanes east of Kasold Drive.
6th and Kasold
Copyright 2018 The Lawrence Journal-World. All rights reserved. This material may not be published, broadcast, rewritten or redistributed. We strive to uphold our values for every story published.