For the first time in the school's history, Kansas University awarded honorary doctorates at its commencement ceremony on Sunday. Here's a bit more about the four honorees, using information provided by KU: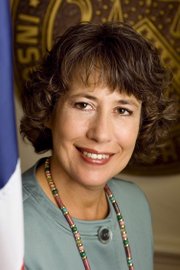 Sheila C. Bair
Recipient of the degree of Doctor of Laws.
A native of Independence, Bair received a bachelor's degree in philosophy in 1975 and a law degree in 1978 from KU.
She served in a number of other public and private posts before joining the FDIC as its chairwoman in 2006, a position she held during the Great Recession, and through July 2011. During that time, Forbes magazine ranked her as the No. 2 most powerful woman in the world.
Robert J. Dole
Recipient of the degree of Doctor of Laws.
Dole grew up near Russell and enrolled at KU with a $300 loan in 1941.
He was injured in World War II and later returned to Kansas to earn a bachelor's degree and a law degree from Washburn University in Topeka before entering politics.
He was elected to the U.S. House in 1960 and the U.S. Senate in 1968, rising to the level of majority leader. He was the Republican presidential nominee in 1996.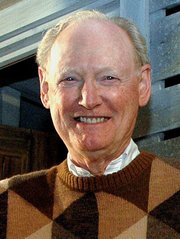 Kirke L. Mechem
Recipient of the degree of Doctor of Arts.
Mechem grew up in Topeka and served in the Army in World War II.
He has composed more than 250 works, including "Give Thanks Unto the Lord," "Symphony No. 1," "Seven Joys of Christmas" and "Island in Space," which conveys astronaut Russell Schweickart's emotions as he looked back at the Earth from space.
In 2007, the American Choral Directors association marked his 50 years of composing with a retrospective concert at its national convention.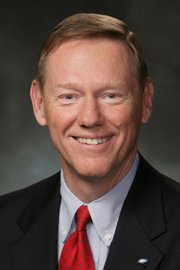 Alan Mulally
Recipient of the degree of Doctor of Science.
Mulally, currently the CEO and president of Ford Motor Co., grew up in Lawrence and received a bachelor's degree and master's degree in aeronautical and astronautical engineering from KU.
Mulally worked for 37 years at Boeing, where he contributed to the design of every Boeing commercial airplane, and eventually became CEO.
He left in 2006 for Ford, where he helped guide the company through the 2008 economic downturn without a bailout from the federal government.
Copyright 2018 The Lawrence Journal-World. All rights reserved. This material may not be published, broadcast, rewritten or redistributed. We strive to uphold our values for every story published.