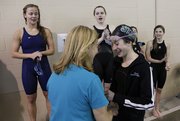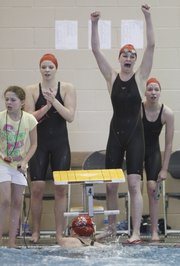 A pair of league swimming titles weren't enough to satisfy Free State High freshman Courtney Caldwell on Saturday afternoon at the Lawrence Indoor Aquatic Center.
Caldwell set Sunflower League and personal records in the championship finals with her 50 free time of 23.71 seconds and won the 100 free with another personal record, 51.87 seconds. Still, minutes after the meet came to an end, the competitive freshman couldn't get past the disappointment of the Firebirds' taking fifth in the last race of the day, the 400 free relay.
Taking deep breaths and appearing worn down, Caldwell said: "I'm not really tired, I'm just kind of a little upset."
FSHS had the top relay time at Friday's prelims, but finished fifth in the finals, more than three seconds behind Shawnee Mission East, which racked up the most overall points to secure a Sunflower League team title.
Though the result peeved Caldwell, sophomore teammate Lucy Sirimongkhon-Dyck said Caldwell always serves as a great anchor in the 400 free relay.
"She beat herself up," Sirimongkhon-Dyck said, "but I think we all did our best."
The SME 400 relay victory surprised Lawrence, too. The Lions' Gretchen Frick, Annie Odrowski, Miranda Rohn and Heather Cistola had been nearly two seconds better than East in the prelims. But LHS took second after finishing 1.65 seconds behind SME in the final.
Said Frick: "We were a little bit surprised since they were in lane two. At least now we know for state that we have another team to look out for."
Lawrence, which finished fifth in the team standings, 35 points behind fourth-place FSHS, took league titles in two races. The Lions' first gold medals came in the 200 medley relay, with Rohn, Frick, Cistola and Odrowski beating out Free State's Sirimongkhon-Dyck, Kat LaFever, Kate McCurdy and Caldwell for first place.
"We had a lot of races (this season) where some of us had done really well and others hadn't," Frick said, "but today we all just did really well, and we all went best times."
Cistola nabbed another gold medal for LHS by beating out a familiar foe, Olathe Northwest senior Mackenna Rife, in the 200 free.
"It was really kind of nice to beat her once," Cistola after her 1:55.46 finish.
Rife got some payback in the 500 free, finishing more than four seconds in front of second-place Cistola (5:12.29), who set personal records in both of her individual races.
"I was really not expecting Mackenna to go that fast," Cistola said. "She's a great competitor."
Between the city's two rival schools, Free State had the most championship swimming medals, with 10. Along with Caldwell's wins, the Firebirds' second-place 200 medley relay finish and the fifth-place 400 free relay, Sirimongkhon-Dyck was third in the 100 back and fourth in the 200 IM, Eliza Anderson took fourth in 100 back and sixth in 200 free, and McCurdy finished fifth in the 100 fly. The 200 free relay team of Anderson, Katie Kimbrough, Alexa Malik and Morgan Miller took fourth.
Plus, FSHS divers Jackie Zaitz (fourth), Annie Soderberg (sixth) and Haley Johnson (11th) all scored points.
Free State coach Annette McDonald said her team was "fabulous" at prelims, and she was proud of how it finished out a long two days at the league meet.
"They really swam well. They just were beat because the other teams swam better," the FSHS coach said.
Caldwell, too, said the Firebirds were pleased.
"We stepped it up," she said. "We did an amazing job."
Lawrence accumulated six championship medals. To go with the 200 medley relay title, Cistola's 200 free title and her second-place swim in the 500 free, Frick took third in both 100 fly and 100 breast, and Odrowski was sixth in the 200 IM,
In diving, Allison Williams finished ninth.
LHS coach Kent McDonald said prelims didn't go the way the Lions wanted and that cost them Saturday in the points race.
"We really needed some breaks," he said.
Copyright 2018 The Lawrence Journal-World. All rights reserved. This material may not be published, broadcast, rewritten or redistributed. We strive to uphold our values for every story published.