No one in Free State High's baseball dugout ever would describe the team's offense as potent this season, but touching home was a particularly arduous task for the Firebirds in a 7-1 Tuesday home loss to Olathe North.
FSHS (8-9) averages just three runs a game, but with nine hits against Eagles starter Matt Slauter, the Firebirds had their chances.
Free State left two runners on base in each of the first three innings and stranded eight total in the loss. When coach Mike Hill saw his team fail to drive in runners on second and third with one out in the bottom of the first, he knew it would come back to bite the Firebirds.
Photo Gallery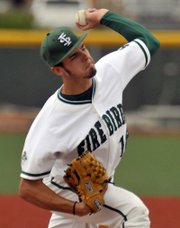 Free State baseball vs. Olathe North
"If we get ahead early, that sets a tone," Hill said. "It's the missed opportunities that are hurting us right now."
With a Lee McMahon one-out RBI single in the bottom of the third, FSHS did capture a momentary 1-0 lead. But then courtesy runner Ryan Cantrell was caught stealing. Even after JD Prochaska singled and Tim Turner was hit by a pitch to keep the inning alive, Trent Johnson grounded out to third base.
Hill said Free State's inability to score was the biggest factor in the loss.
"In turn, we end up putting so much pressure on our defense and pitching to be perfect," Hill said, "and although they've done a great job, they're not perfect. Nobody is."
Prochaska started on the mound for FSHS, and though he quickly racked up six of his eight strikeouts in the first two innings and held O-North scoreless through four, the Eagles took a 2-1 lead in the top of the fifth with an RBI triple off the bat of Jake Jahner and an RBI single from Connor Dawson.
O-North added four more hits and two more runs off Prochaska in the top of the sixth before Jacob Caldwell entered in relief. He gave up an RBI single to Dawson, and Jahner scored on the hit as well, thanks to a Firebirds error.
Caldwell struck out Slauter to end get out of the inning, but with Free State trailing 6-1, the damage was done.
FSHS senior Montana Samuels acknowledged the game had the makings of a low-scoring Firebirds victory before O-North took control late.
"It just got away from us a little bit, and it was things that we really could've controlled," Samuels said. "It's just one of those days where you kind of make mistakes and not necessarily hand it to them, but you could've made some plays that would've effected the game. It happens to everybody. You've just got to move on from it."
The lack of run production, Samuels said, has been a problem for FSHS throughout the season.
"Obviously, one run isn't gonna get it done," the senior first baseman said.
The Firebirds will play at Shawnee Mission East at 7 p.m. Thursday.
Copyright 2018 The Lawrence Journal-World. All rights reserved. This material may not be published, broadcast, rewritten or redistributed. We strive to uphold our values for every story published.