Lawrence High softball coach Nick Wood believed there were two main positives following his team's 12-2 and 15-0 run-rule losses to Olathe East on Tuesday.
No. 1, he knew his team would grow from the experience, and No. 2, he realized his team most likely won't have to face East pitchers Jenni Brooks and Allison Stewart again this season.
"You can see why they're ranked at the top of the state," Wood said. "Any time you can throw those two pitchers out there, and they can swing it like the way they do, there's no hidden secret why they're good."
Though the Hawks racked up 27 runs and 32 hits in 10 innings, their pitching stood out most.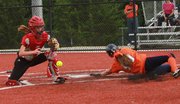 Stewart pitched a no-hitter in the nightcap, riding a nasty riseball to nine strikeouts with two walks.
Brooks also was dominant, allowing just two hits while striking out eight in the opener.
"She has good movement, and she throws hard," LHS third baseman Lauren Byrn said of Brooks. "We just need to be ready for that. We've practiced really hard with hitting. I think we should have done a lot better."
After falling behind 10-0 in Game One, LHS put together its best inning in the bottom of the fourth.
Kenzie Garvin started with a strikeout, though Wood was still happy with the at-bat after Garvin battled and made Brooks work by fouling off a few pitches.
Marly Carmona followed with a line-drive double into the right-center gap for Lawrence's first hit, and she moved to third on a wild pitch.
Morgan Byrn delivered an RBI groundout, and Lauren Byrn started a new rally with a hard single up the middle.
"It felt good," Lauren Byrn said. "I've seen (Brooks) before. I saw her last year, and I play her in the summer. I'm just kind of used to her."
Lauren Byrn advanced to second, third and home on wild pitches.
Kristen Gile also added a walk in the inning, and Megan Wilson's would-be single to center turned into an out when East's Kiki Stokes threw to second base to force out Gile on a close play.
"We found a way to have good at-bats and get in two runs," Wood said. "That was a positive we could really build on."
The Lions' bats went silent in Game Two, as Morgan and Lauren Byrn's walks were the team's only two base-runners.
Between the two games, LHS honored three of its players on Senior Night: Lauren Byrn, Wilson and Amanda Mehl.
The Lions (5-14) will face Free State on Monday at Arrocha Ballpark on the Kansas University campus.
After that, postseason play begins.
"When we go to sub-state, we're going to play teams that haven't seen this kind of competition," Wood said. "That's what we talked to the girls about. Once sub-state gets here, this is all one practice for when it really counts. These experiences, although they hurt right now, they're going to help us out down the road."
Copyright 2018 The Lawrence Journal-World. All rights reserved. This material may not be published, broadcast, rewritten or redistributed. We strive to uphold our values for every story published.