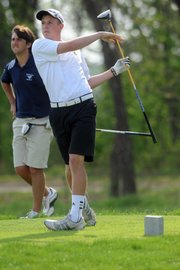 There is just something about playing at home that makes the slightest shortcomings seem monumental.
Such was the case for the Free State High boys golf team Wednesday at the Free State Invitational.
FSHS took sixth place with a team score of 318 at Eagle Bend Golf Course, where the Firebirds practice nearly every day. The golfers' familiarity with the course and inability to match the scores of champion Olathe East (297), runner-up Washburn Rural (307) and third-place Blue Valley North (312) left the hosts at least mildly disgruntled.
"We were hoping for better," said Free State coach Matt Gudenkauf, who noted Shawnee Mission East (313) finished two spots ahead of the Firebirds, even though SME brought mostly junior-varsity golfers.
Firebirds junior Wilson Hack was one of two FSHS golfers to break 80. Hack said he and his teammates were capable of finishing better than sixth and that he could have improved his 77 had he avoided a triple-bogey on the par-3 eighth hole.
"There's water off to the right, and there's stuff on the left you don't want to go into," Hack said of the troublesome layout. "It just messes with you, mentally."
His teammate, junior Alex Green, shot a 79 and said his putting was a little off on the slow greens.
"We're all a lot more capable of doing better things," he said.
Still, Free State benefited from Colin Becker, Max Soto and Lee York each posting an 81, helping the host team finish three spots and seven shots ahead of rival Lawrence (ninth, 325).
Said Gudenkauf: "The thing that I do like about our scores today is that they were all consistent. They weren't numbers that were way out of whack."
Henrichs takes 6th
Lions senior Logan Henrichs was the picture of consistency among city golfers at the invitational. He followed a 37 on the front nine with 38 on the back, and a tie-breaker gave him sixth place for his round of 75 — six behind the pace of champion Travis Mays, of Blue Valley Southwest, who posted a 69.
Henrichs said the absence of wind made it easy to control the ball after he started most holes on the right track with accurate drives.
"If you get in the fairway here, it's not the toughest approach shots up to the green," he said.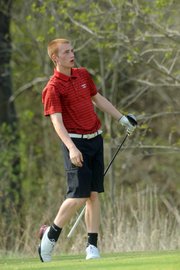 Early on the back nine, Henrichs thought he would be able to finish with a medal-worthy score, but he didn't want to get ahead of himself.
"I always try not to do that," Henrichs said. "I've done that before, and it hasn't turned out great."
LHS coach Dirk Wedd marveled at Henrichs' ability, given that he doesn't get much offseason time to hit the links.
"He's unbelievable. Most of these kids have been playing in Florida or lord only knows where. They're hitting balls all winter," Wedd said. "He plays basketball, and all of the sudden he goes, 'OK, now it's time to play golf.' He's a gifted athlete."
Lions junior Brett Van Blaricum shot an 81, and junior Cole Cummins was right behind with an 83.
Wedd said Van Blaricum, who qualified for state last season, is on the verge of playing even better.
"If he can get rid of the double-bogeys, turn them into bogeys," Wedd said, "now you're talking about getting into the 70s, which he's very capable of doing."
After Lawrence compiled a score of 334 Monday at the Blue Valley West Invitational, Wedd was pleased to see his golfers trim nine strokes from their score two days later.
"We want to be good in May, and right now we have a bunch of young kids who are improving," he said. "We improved from Monday to Wednesday, so that's a good start."
Next up for LHS is a Monday trip to the Shawnee Mission South Invite. Free State is off until April 9, when it competes at the Manhattan Invitational.
Copyright 2018 The Lawrence Journal-World. All rights reserved. This material may not be published, broadcast, rewritten or redistributed. We strive to uphold our values for every story published.