A woman was taken to Lawrence Memorial Hospital Wednesday afternoon as firefighters investigated a possible hazardous material incident in a Lawrence apartment.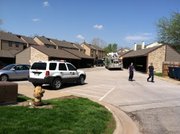 Sgt. Ted Bordman, a Lawrence police supervisor, said that around noon, an officer was sent to speak to the woman at the apartment complex in the 1300 block of Westbrooke Street near Bob Billings Parkway and Crestline Drive. Officers were checking her welfare after they were called earlier about a report that she was acting strangely on the nearby Orchards Golf Course.
The officer followed the woman into her apartment, and she shut herself in the bathroom.
The officer called for more assistance, and minutes later the woman was found unresponsive next to a bucket in the bathroom. Police called for firefighters to investigate the potentially hazardous material, Bordman said.
Lawrence-Douglas County Fire Medical crews responded to the apartment complex and at 12:35 p.m. had evacuated apartments around the unit where the woman was found. By 1 p.m., an all-clear had been issued and residents were allowed back to their apartments. Division Chief Eve Tolefree, a fire department spokeswoman, said no chemical readings were detected on monitors.
Bordman said that police officers discovered that the woman was wanted on a felony warrant. She was in stable condition at the hospital.
Copyright 2018 The Lawrence Journal-World. All rights reserved. This material may not be published, broadcast, rewritten or redistributed. We strive to uphold our values for every story published.