Coming off a long 2011 season, when results often went in the opponent's favor, Lawrence High's girls soccer team got a taste Tuesday night of what it hopes will be a much more satisfying year.
The Lions, in the debut of coach Janna Kepler, blanked visiting Baldwin — playing its first girls soccer match in school history — 5-0.
There were plenty of signs, senior forward Laura Falkenstien said, that LHS is headed in the right direction.
"I'm excited, because more than just a couple girls scored," Falkenstien, one of the team's three captains, said, "so I think it's gonna be a great confidence booster."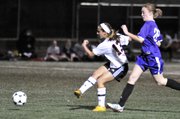 Two of Lawrence's goals came courtesy of Falkenstien's boot, but three other Lions contributed a goal apiece in the home victory. Sophomore Addison Campbell scored on a free kick by freshman Karissa Aldrich, senior midfielder Meredith Warinner converted on a penalty kick and Falkenstien put a rebound in the net to set up a 3-0 halftime advantage for LHS.
In the second half, Falkenstien scored her second goal in the 62nd minute and junior Elizabeth Burney pushed the lead to five a little more than 10 minutes later.
Kepler said the Lions (1-0) gave her exactly what she was looking for through most of the match.
"We dictated the pace and we kept spreading them, which helped us attack the goal," the first-year LHS coach said. "Keeping them wide was the ticket.
"In the last 20 minutes, our conditioning showed and we weren't able to keep them as wide, so we kind of fell apart."
Fitness, Falkenstien agreed, was one area of concern following the team's season opener.
"We got a little tired," she said, "but we'll get there."
Lawrence's coach was pleased to see her players make transition attacks, which had been problematic for them in the past.
"I'm really excited the girls were able to come together and play connected between our offense and defense," she said.
The Lions defense played a huge role in the five-goal victory. Baldwin (0-1) didn't get a shot off in the second half and only managed five shots on goal. Each of those was turned away by Lions sophomore goalkeeper Alex Ewy.
"I think they were just able to cover really well," Kepler said of her team's defenders. "They communicated well, they picked up the runs and were able to drop back and make sure they picked up the girls (from Baldwin)."
Lawrence senior sweeper Lauren Fleming said she was proud of the Lions' defense, as well.
"I was really happy. We played hard up until the buzzer rang," Fleming said. "But we definitely could've had a lot more goals. We had a lot of really good looks."
The victory wasn't perfect, according to Falkenstien, but there wasn't a lot to complain about.
"It was really good to start off with a win," she said. "Last year we struggled a lot with finishing. I think we finished pretty well today."
It may have been a shutout, but Kepler said the Bulldogs made LHS work.
"I give Baldwin a lot of credit, though, because this is their first season, and they came out and they hustled," Lawrence's coach said. "They never gave up."
At 7 p.m. Thursday, the Lions play host to Shawnee Mission East.
Copyright 2018 The Lawrence Journal-World. All rights reserved. This material may not be published, broadcast, rewritten or redistributed. We strive to uphold our values for every story published.