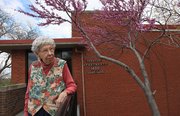 Margo Gordon, a retired Kansas University professor of social work, said she's found a pretty good living situation, even though she's a mite older than most of her neighbors.
Gordon retired from KU in 1983. After her husband died, she was looking to leave her small house around 1997 and found out about Sprague Apartments through some friends and acquaintances.
Today, Gordon occupies one of nine apartment units for retired faculty that are right on campus. Her home is just up the road from several scholarship halls (Gordon said she occasionally gets invited to some of their outdoor cookouts), and bustling Jayhawk Boulevard is nearby.
"I enjoy it," she said. "It's fun to watch students go up and down the hill to class."
And she's close to a lot of on-campus activities and downtown. Her church is nearby, too.
Sprague Apartments, the three-story red brick building at 1400 Lilac Lane, is tucked behind Danforth Chapel on the KU campus. Visible while traveling on 14th Street east of Jayhawk Boulevard, it was built in 1960, after a bequest from Elizabeth Sprague, head of KU's home economics department from 1914 to 1941.
The gift was made with the intent of providing retired faculty members and their spouses with a place to live.
Today, it's owned and operated by the KU Endowment Association, and Gordon said she didn't think it was very well-known.
"I think I was here several years before I knew it existed," she said.
Today, applicants must have had at least 15 years of service to KU to apply for the waiting list, said Monte Soukup, senior vice president for property management at KU Endowment. About 15 people are on that list now, he said.
Soukup said rents are kept low — a two-bedroom unit goes for $550 per month, including utilities — and the facility is operated at no profit.
It's not assisted living, but residents say they enjoy living in a small community with others, he said.
"They really take care of each other," Soukup said.
In addition to managing Sprague Apartments, Soukup also is in charge of Pioneer Cemetery on KU's West Campus, the final resting place of many prominent KU figures.
"You're our landlord here and ever after," he recalled one resident telling him.
A management company maintains the property and collects rent from tenants. A graduate student typically occupies a basement apartment and receives a discounted rent in exchange for helping the residents with small tasks such as changing hard-to-reach light bulbs and shoveling snow from walkways.
This semester, that's Ryan Callihan, a master's student studying geography. He said he just kind of fell into the living situation, after a friend recommended he live there. He worked in a retirement home in high school, so the environment is not totally foreign to him.
He enjoys telling his friends about the place and mentioning that he lives with a bunch of retired faculty members.
"The only people who know what Sprague Apartments is are the ones who try and park in the parking lot and get run off," he said.
He enjoys his neighbors' company, many of whom encourage him (sometimes sternly, he said) to stay focused and finish his thesis.
"There's lots of wisdom to be had just talking with them," he said.
Copyright 2018 The Lawrence Journal-World. All rights reserved. This material may not be published, broadcast, rewritten or redistributed. We strive to uphold our values for every story published.