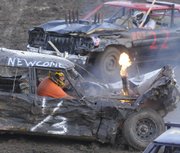 Whether you're in a car or in the stands, the Douglas County Fair's Demolition Derby promises a visceral experience.
"It's just so loud and kind of obnoxious and powerful," says Jay Armbrister, a former derby driver and this year's head official. "It's really kind of cool."
Friday night's derby will have two new classes and additional prize money, which organizers hope will help entice derby drivers and fans alike.
So you're a derby newbie?
Pulse caught up with Armbrister, of Baldwin City, and Fair Board Vice President Andy Booth, of Lawrence, also an ex-derby driver, to help shed some light on the event before you go.
Here are 10 things you probably didn't know about the Douglas County Fair's Demolition Derby:
1. There is strategy
Winning a demolition derby usually takes more than driving around ramming into people all willy-nilly.
"It's pretty strategic, and each driver's different," Booth says. Some floor it and ram hard every time. Some lie in wait — tapping just often enough to stay in the bout (if you go one minute without making a legit hit, you're out) but not so much they'll ruin their own car too early in the game.
If you go
The Douglas County Fair Demolition Derby is at 7:30 p.m. Friday in the rodeo arena at the fairgrounds, 2110 Harper St.
Tickets are $10 for all ages. They go on sale at noon Wednesday at the fair office and also are available at the gates. Seats are first come, first served.
2. Anything does NOT go
There are rules in demolition derby. In fact, the Douglas County derby has no fewer than 13 pages of them. Suspension, bolt length, tires, bumpers, transmission fittings, leaf spring packs (whatever those are) — they're all covered.
Armbrister and five other officials will inspect each car before the event to ensure there's no illegal modifications or hidden reinforcements, but if a car takes hits that should turn it into a taco but it — mysteriously — stays intact, officials may inspect it again after the race. This time, they can use drills and torches to get their answer.
3. Brutish behavior is frowned upon
Drivers must be sober, and their cars profanity-free. They can't intentionally make driver-door hits, and they must not get out of their cars and charge the officials.
The rules say: "Classless behavior by you, yourself, or any of your pit members will absolutely not be tolerated and could result in either disqualification or, in the worst case, a criminal investigation." Armbrister also would prefer that fans refrain from chucking mud clods or beer cans at officials during the race.
4. The cars aren't actually junkers
On the contrary, they're probably more powerful than yours.
Drivers strip cars down to the body and dump thousands of dollars into rebuilding them with super-powered parts. For example, Armbrister says, if a hit took out your radiator, you'd need your car to run with no coolant for at least half an hour to stay in the race.
"They're backyard physicists," Armbrister says. "They're engineers, basically. They try to re-create this car so it won't fall apart on them." Casual drivers might have one or two cars, while the most serious driver could have a whole pasture of them.
"It's not a poor man's game," Armbrister says.
5. Well, OK, some of them are
Derby organizers understand not everyone can afford an $8,000 derby-dominating monster. To welcome more rookies and weekend warriors, this year they added the Hobo class, where cars aren't allowed to be modified.
"Basically, it's just knock out the windows and chain the doors up," Booth says.
6. Women drive, too (and their cars aren't pink)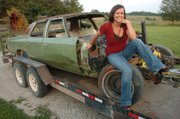 Prior to this year, at least in Douglas County, any women who ventured onto the track went up against the men in the full-size or compact classes. This year, they'll have their own competition — the Powderpuff Class. Booth says he expects between five and 10 ladies to drive Friday night.
Armbrister says a lot of women drivers have husbands or boyfriends who drive in the derby. Even though they run for less money, he says, "they just enjoy it." And if you assume they're all in sissy-colored cars, you'd be wrong. Armbrister says the ones he's seen stick to more "sinister" palettes, just like the guys.
7. Prize money is up
The derby used to attract its limit of about 80 cars, Booth says, and if you weren't signed up by June you probably weren't getting in. In hopes of motivating more drivers, the fair board recently upped its prize money, which now is a little higher than most area derbies. Winners of the new Hobo and Powderpuff classes will get $500. First place in the full-size or compact classes will get you $2,000, with payouts for lower places, too.
8. "Mad Dogs" can also make money
Even though a more reserved strategy can pay off with a win, let's be honest: It's not as much fun to watch as Dukes of Hazzard-esque craziness. Enter "Mad Dog" money. Instead of going to competitors who win or place, this new cash prize is for "the car who goes out and just drives it like a maniac," Armbrister says. Fans love that style, so organizers want to reward a driver "for really putting on a show."
9. Bringing blankets is not dumb
"You'll be able to tell the more experienced derby fans because they have blankets," Booth says. Of course the blankets aren't needed to keep warm. When a car's careening by, spectators hold them up like shields so they don't get pelted with mud.
10. A lot of people are into this
Don't expect to show up a few minutes before the start time and get a spot in the front row. With one of the biggest tracks and some of the biggest crowds, Armbrister says, Lawrence is a "crown jewel" of derbies, at least in northeast Kansas.
Booth says the fair doesn't have exact counts but estimates the event averages 3,000 attendees.
"People start lining up two and a half hours before the derby to get the best seats," he says. "As far as fans go, they're pretty passionate here in Lawrence."
Copyright 2018 The Lawrence Journal-World. All rights reserved. This material may not be published, broadcast, rewritten or redistributed. We strive to uphold our values for every story published.